Unity Ads vs AdMob vs AdPumb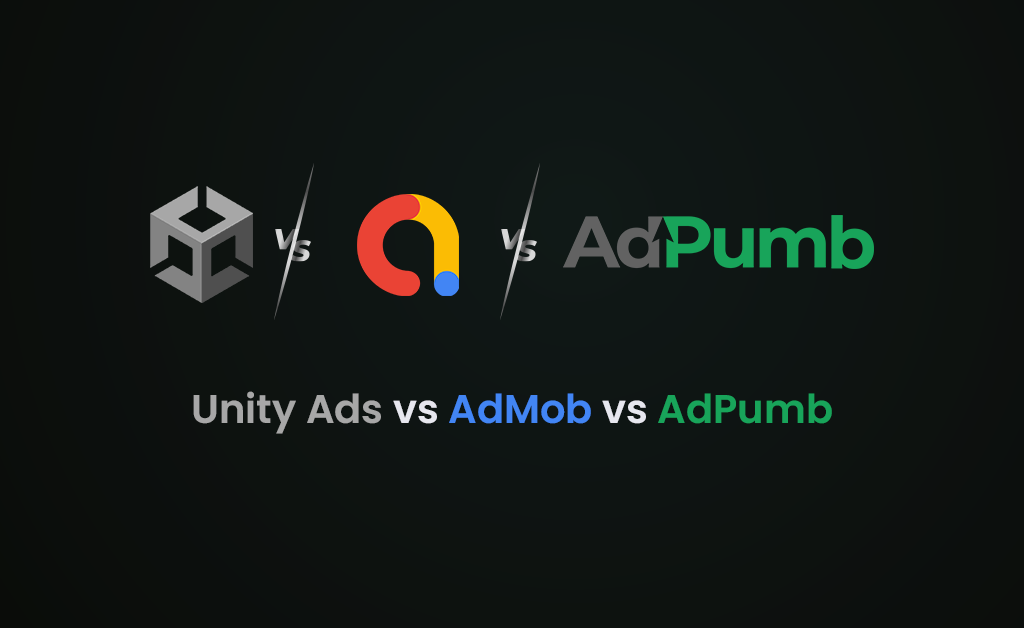 There are other mobile advertising networks on the market, but few are as large as Google AdMob. It enables publishers and app developers to monetize their inventory at higher prices. The network has a strong presence across all continents, with rates higher in tier-one nations such as Japan, the United States, and the United Kingdom. Once your app is on the Play Store or App Store, you can begin monetizing it by including ad codes in the SDK.
Unlike Unity Ads, developed by the leading mobile game engine, the Unity Ads SDK provides monetization infrastructure for your game, regardless of whether you build in Unity, XCode, or Android Studio.
Overview
AdMob is the platform to monetize high-quality traffic for app developers. It is a well-known mobile ad network that provides high-quality in-app ads without interfering with your app's traffic. This advertisement network or ad network is limitless and operates across platforms such as Android and iOS. Though, unlike AdPumb, the ad network employs a hidden and severe screening method.
Unity ads is most effective when used by game publishers and app developers. It has the best formats, notably video ads and rewarded video ads. Google AdMob offers native ad, interstitial ad, and rewarded video ads as its preferred ad type. While Unity Ads are exclusively available for games, Google AdMob is available for both apps and games. AdPumb is similar in that it serves in-app ads for both games and applications.
Unlike competitors that prioritize advertisers, AdPumb prioritizes publishers. However, it is imperative to note that AdPumb is not an ad network but a programmatic ad mediation platform. As a result, publishers may retain control of their inventory while increasing their existing revenue stream.
Unity Ads vs AdMob vs AdPumb Comparison
| | | | |
| --- | --- | --- | --- |
| | Unity Ads | Google AdMob | AdPumb |
| Overview | An ad network that supports mediation | An app monetization platform & mobile ad network | Adds more to your existing revenue stream with Robust Ad mediation |
| Ad Formats | Best ad formats, particularly video ads and rewarded video ads | Native, interstitial, and rewarded video ads | Huge Variety of Ad Formats |
| Ad Mediation | Supports Mediation | Supports Open Bidding along with Ad Mediation | Robust Ad Mediation |
| Payments | Net 60 | Monthly payments with a minimum $100 threshold | Net 30 |
| Scope of Optimization | Fine-tuning campaign targeting available | The limited scope of optimization as floor setting, and mediation is manual | Autopilot mediation takes care of optimization |
Unity Ads vs AdMob vs AdPumb Comparison Table
Key Role
While Google AdMob and Unity ads are ad networks that allow for manual mediation, AdPumb is primarily a mediation platform with a service orientation at its core. AdPumb supports mediation from the provider end (autopilot), allowing clients to make use of the robust mediation that allows you to drive in demand from 3000+ demand partners worldwide.
Minimum Traffic Requirements
Google AdMob, like Unity ads, has no minimum traffic requirement. Once certified for traffic, both systems permit controlled demand. Compared to AdMob and Unity, AdPumb integration requires publishers to have a DAU of 10,000 or more. AdPumb needs our publisher clients to meet this minimal standard to realize the full advantages of AdPumb's comprehensive mediation.
Payment Terms
Unity distributes payments at the end of each month on a net 60 cycle, which means your outstanding balance is paid in full within 60 days of each payment period if your earnings meet or surpass the minimum payout amount.
AdMob operates on a monthly payment cycle. The payment threshold gets set at $100. It accepts payments through several channels, including ACH, PayPal, and wire transfers. The whole AdMob revenue gets credited to your account, and the payout gets executed under that. AdMob, on the other hand, has no minimum requirement. Revenue collected each month is automatically added to your account, and you will get paid whenever you reach the $100 milestone.
AdPumb pays publishers on a NET 30 basis. This effort is getting taken to guarantee that publishers get paid quickly and on schedule.
Scope of Ad Revenue Optimization
While Unity Ads allows publishers to fine-tune campaign targeting with manual mediation support, Google AdMob only allows for minimal optimization, allowing publishers to tweak their floor settings and mediation manually.
AdPumb, on the other hand, provides publishers access to autopilot mediation that takes little to no effort from them. AdPumb attracts global demand and generates significantly more money than Unity and Google AdMob by employing tactics such as fill rate management and eCPM optimization. Ad mediation is simply plug-and-play with AdPumb!
Bottom Line
If you're a game developer, you should experiment with Unity ads to boost your revenue from rewarded video ads and video ads. There have been app developers that have made millions of dollars with Unity ads. The network covers over 400 million people in the United States and has high rates for the right traffic. You may also utilize AdMob to mediate with Unity ads to get the most out of both networks.
We recommend that you utilize an intelligent ad mediation platform like AdPumb, which can optimize numerous ad networks, ad units, and placements to maximize revenue per impression. AdPumb reveals and realizes the revenue you've been leaving on the table all along!
Frequently Asked Questions