21 Effective App Monetization Strategies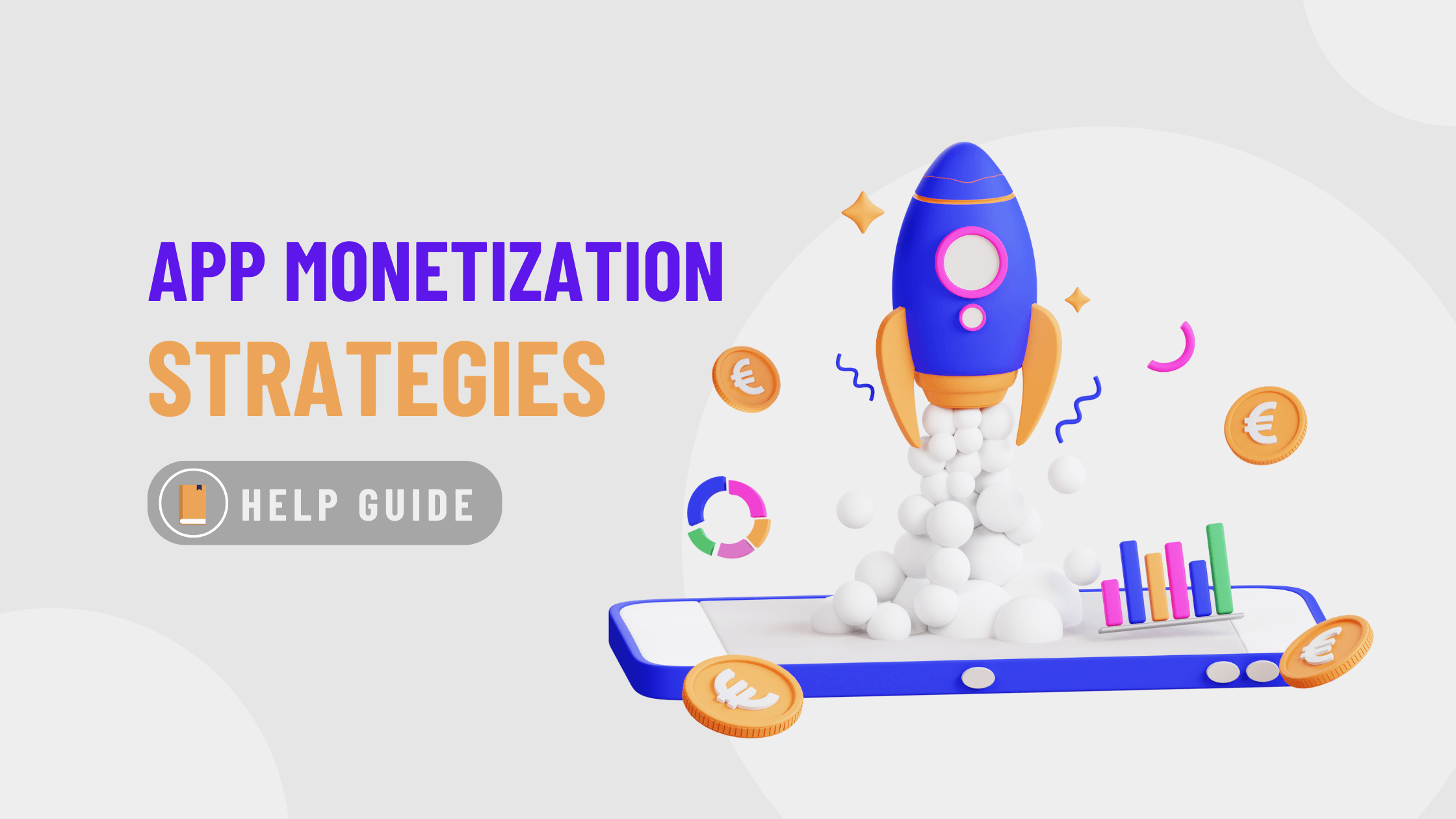 When it comes to revenue generation from mobile apps, you need to deeply dive into the app monetization strategies. Here we have listed the top app monetization strategies that are generally applicable to various types of apps. You can choose the right strategy and choose the best mix of mobile app monetization techniques as a hybrid for your mobile application.
With any monetization strategy, it's important to consider how it might affect not just your app's growth potential but also engagement from users. Some mobile app monetization strategies may be more effective than others in terms of generating revenue. It's important to find a balance that works for you and your app so that you can continue growing while still providing a good experience for users.
Depending on the type, characteristics of the mobile app, and the persona of the target audience the app developer or owner can choose the right mobile app monetization model.
Here we are discussing the 21 proven mobile app monetization strategies that can help you to increase your ad revenue by up to 200%.
1. In-App Advertising
If you're not already incorporating ads into your app, you could be missing out on a fantastic opportunity to generate app revenue. Mobile advertising has drastically improved communication between advertisers and consumers, and this is largely due to the sheer amount of time people spend on their phones every day – at least 90 minutes, or the equivalent of 23 days a year.
A lot of people simply don't want to pay for the apps they use so frequently, and when they see a cheaper or free alternative, they're much more likely to choose that option. As an app developer, you can take advantage of this by incorporating ads into your app to generate revenue without charging users for downloads.
In-app advertising IAP is an effective mobile games monetization strategy to increase mobile ad revenue, in mobile app games Banner ads, interstitial ads, and rewarded ads can be integrated for app monetization. Ryn VPN, Epic Cricket, and SPL VPN are some examples of in-app advertising applications.
There are many app monetization platforms that advertisers can use to generate revenue. Some of these mobile app monetization platforms include:
AdMob
InMobi
Millennial Media
StartApp
AdPushup
Tapjoy
Publift
Linkury
AdColony
Ironsource
AppBroda
AudiencePlay
Audience Network
Unity Ads
MoPub
Chartboost
AppLovin
Facebook Ad Network
Types of In-App Ads
The four most well-known in-app ads are banner, native, interstitial, and rewarded ads. Banner ads are the most well-known and commonly used ad format for publishers. They frequently span the top or bottom of a mobile app screen and are used to advertise a brand or direct users to an external website.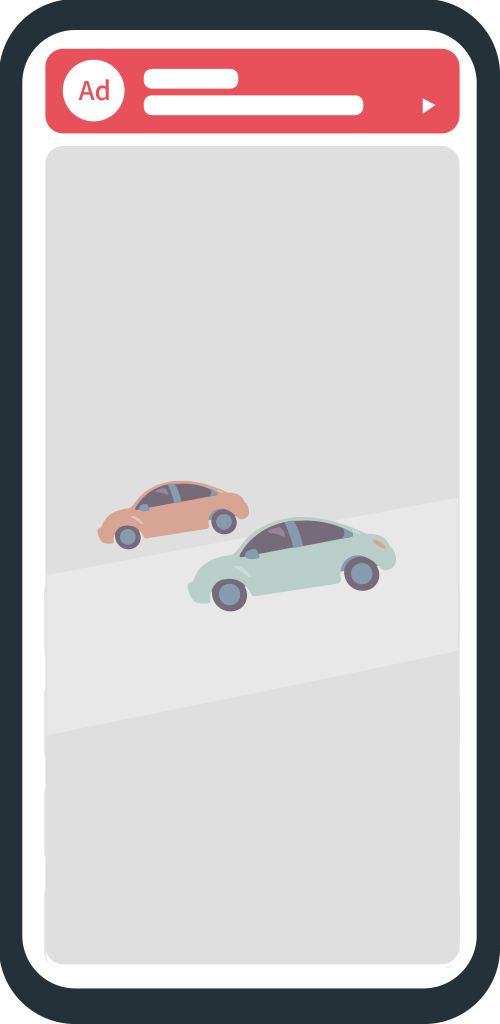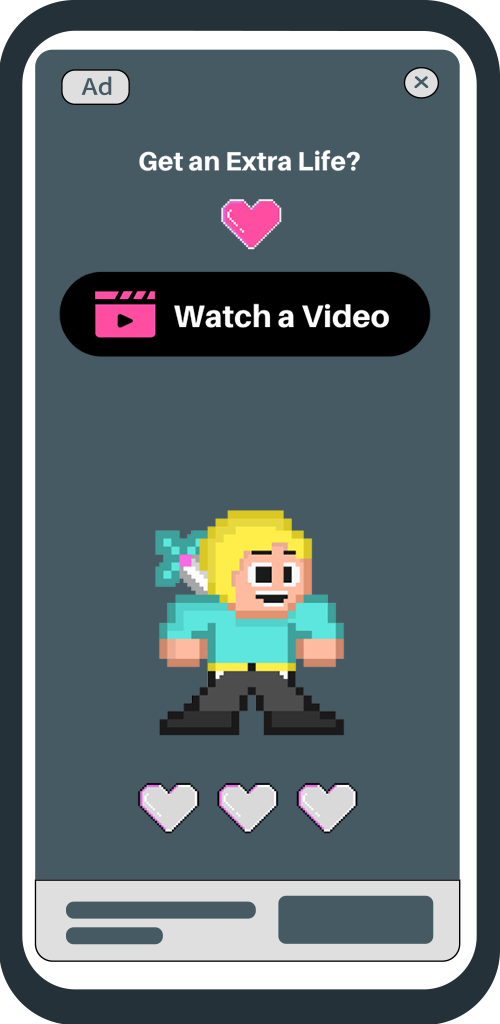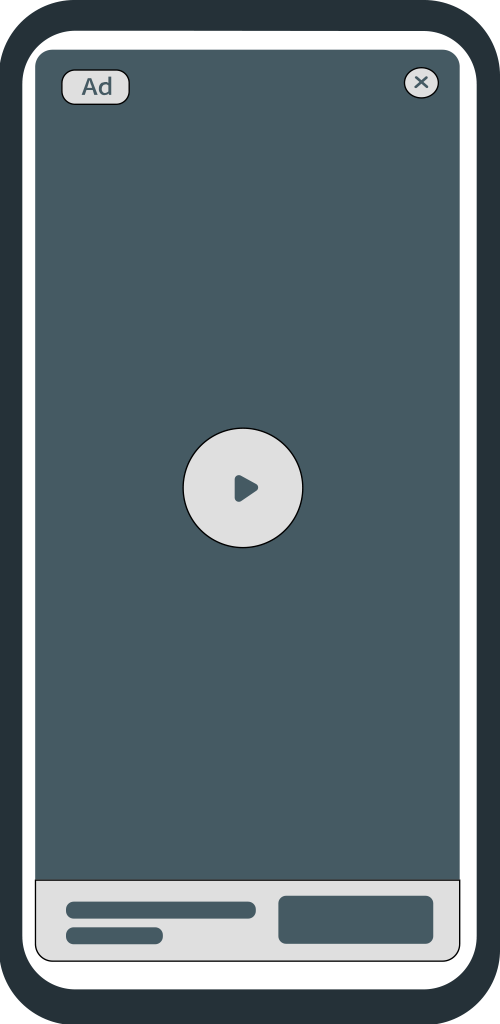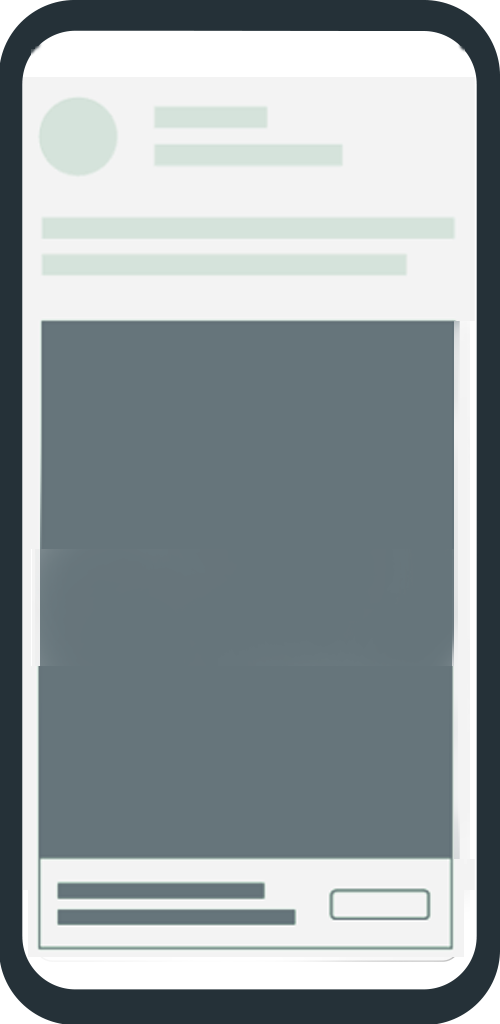 When you run through the app and come across a branded post, for example, a native ad looks exactly like the surrounding content. The only indication of the native ad's origin is the small "Sponsored" tag. Interstitial ads occupy the entire mobile screen and the user interface of an app. It all comes down to timing; these ads function best when placed where a break makes sense, such as in between stages of mobile games. Interstitial ads are for best high eCPM. According to Statista As of June 2022, the United States was the market with the highest eCPM for in-app interstitial ads in Android apps.
Rewarded ads provide app users with the option to watch a video or interact with a playable ad in exchange for an in-app reward. The benefits that are being offered are gems, bonuses, extra lives, coins, etc.
Advantages of in-app advertising app monetization strategy
One significant benefit that in-app ads provide to publishers is the overall amount of time users spend using each app. So, you can expect a minimum guarantee of a better user experience! Because it provides a better user experience, is scaled to fit the screen, and appears good, in-app advertising enhances engagement.
Although it is true that "nobody likes ads," some ads are more bearable, alluring, and likeable than others. Therefore, by using the best and most appropriate mobile ad formats, publishers can offer their users a better ad experience. Advertisers are also interested in in-app advertising since it is less disruptive, highly engaging and interactive, and easier to monitor and manage.
You may achieve some of your objectives, including raising conversion rates, user retention and engagement, brand exposure, and total revenue building, with the help of in-app advertisements. The right in-app ads are delivered to app users largely based on their location.
Some technology providers, such as specialized DSPs, have the ability to determine the user's precise location in order to provide real-time services that take location into account. For instance, you might get a relevant ad if you're a guy, between the ages of 18 and 25, and you live close to an H&M Fashion Store. Therefore, there is a potential that users won't be affected by irrelevant ads. The in-app advertising works effectively on Android apps as the ad personalization is maximum there.
You can choose and work out any of these strategies as your Android app monetization strategy to earn more revenue. Also, a lot of android app users are opting out the personalized ads, see the report of 2021.
Disadvantages of in-app advertising app monetization strategy
The reluctance of numerous mobile users to pay for an app is one of the primary challenges facing developers, forcing them to find innovative ways to monetize. Subscriptions on app purchases are one method developers can go for!
Improper ad placement or even the placement of too many ads will be a disadvantage. Here, you annoy the user by somehow interrupting their mobile experience. This can lead to the permanent loss of a true app user. In-app ads that force users to form assumptions about a brand ad are never going to be digested by the majority of app users. Many users could experience telemarketing-like feelings.
Irrelevant ads without any consideration of the location of users and other navigational difficulties are also major challenges.
2. Free and Paid App Versions
Offering a free and paid version of your app is a great way to monetize your app. By limiting features in the free app, you can "encourage" users to upgrade to the paid app. Alternatively, you can also monetize the free app with in-app advertising.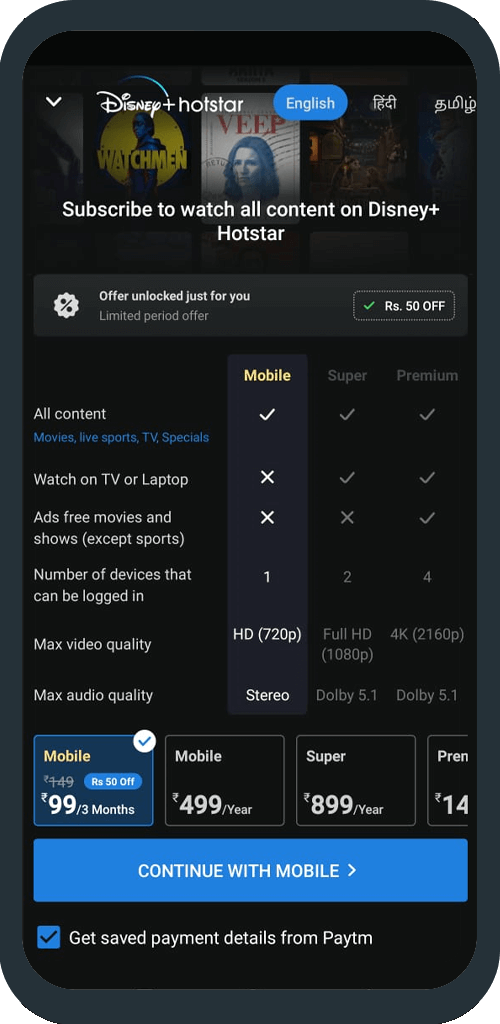 This App monetization strategy has two main benefits. First, it provides a free option for users to experience the basic functionality of your app. Second, it also gives you a growing user base that you can monetize through app upgrades or in-app advertising.
3. Free App with in-app Purchases
One popular app monetization strategy is in-app purchases or IAP. With this type of monetization, the app itself and usually its basic features are free. However, if users want to advance in the app faster or enjoy certain premium features, they can enter the pay-to-play mode.
In some cases, users can still get access to premium features or functionality without paying. For example, they might need to be patient enough to wait for certain features to be unlocked or engage with the app frequently enough. By doing this, they can use the app for free indefinitely. Free apps with in-app purchase models include YouTube, Tinder, and TikTok.
4. Free App with Subscription (Freemium)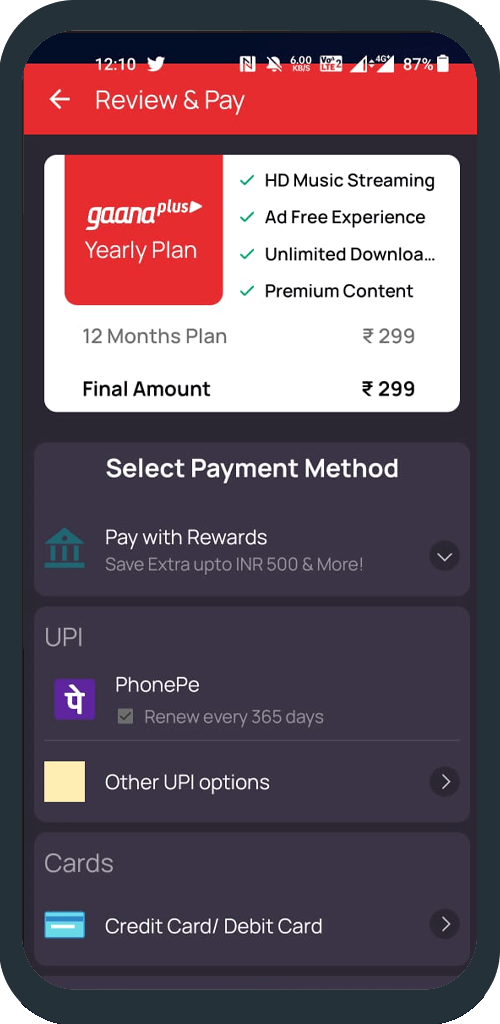 Some developers opt to make their app free to download with limited content and then require users to subscribe in order to enjoy the full benefits. This is a common approach for service-oriented apps like dating apps, Headspace, or content-centric apps like news apps. By making the app free to download, it's more easily discovered in app stores. The Washington Post, a renowned daily newspaper, provides two subscription options. Disney+Hotstar, Canva, Ryn VPN, and SPL VPN are some examples of freemium apps.
5. Paid App
Developers who make their apps available only in the paid version are usually doing so because the app offers unique value that can be hard to find elsewhere. This app monetization strategy is most common among productivity apps.
However, if you're going to go this route, it's important to make sure that your app provides enough value or unique functionality to meet certain user needs. Otherwise, you will have a hard time building up the user base you need to generate app revenue.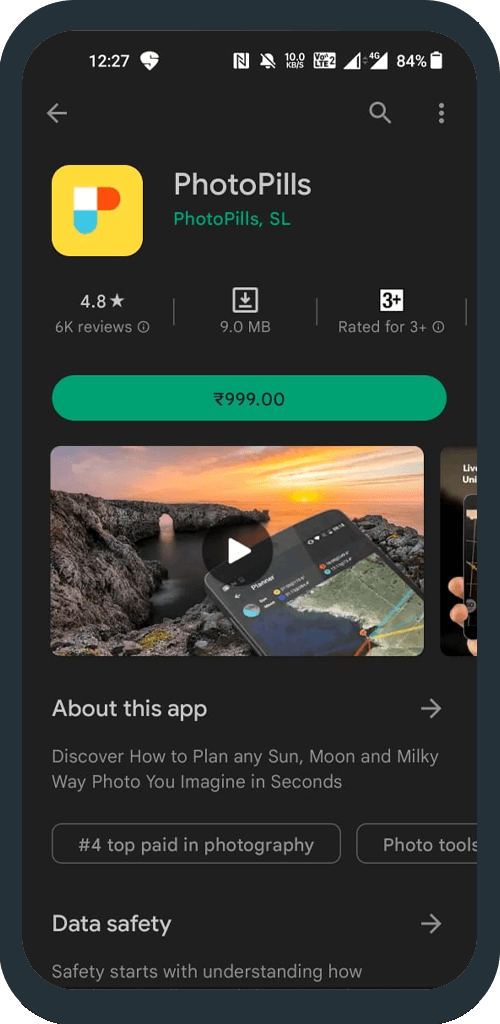 With this approach, the app can easily be discovered in the app stores as a free app when users search for related content. PhotoPills, SunSurveyor, MX Player Pro, and Paint.net are some examples of paid apps.
6. Partnership Model
Apps that are popular among a certain niche market may be approached by companies in that space for sponsorship opportunities. This allows those companies to get their brand in front of your app users.
So when you're planning your next app, think about the target user base it may attract and the type of brands that might be interested in that audience. If the user base is large enough, app monetization through brand sponsorship, partnership, or acquisition could be a good choice.
7. Affiliate Marketing
Many major technology companies have affiliate programs for app developers that involve promoting other mobile apps within your app. For example, Google, Apple, and Microsoft all have affiliate programs open to app developers. While the commissions offered in this app monetization strategy are not high, app developers do have the choice of which apps they wish to promote. This gives them some control over which brands their app is associated with and can encourage users to continue using their app. For example: Amazon.
8. Email Lists for App User Retention
An email marketing campaign is a fantastic way to get more engagement from your customers and increase ROI because people rarely change their email addresses. By keeping your brand at the forefront of a customer's mind, they are more likely to think of your business when in need of products or services you offer. Furthermore, by sending regular emails, you are ensuring that users actually see your content and have the chance to engage with it.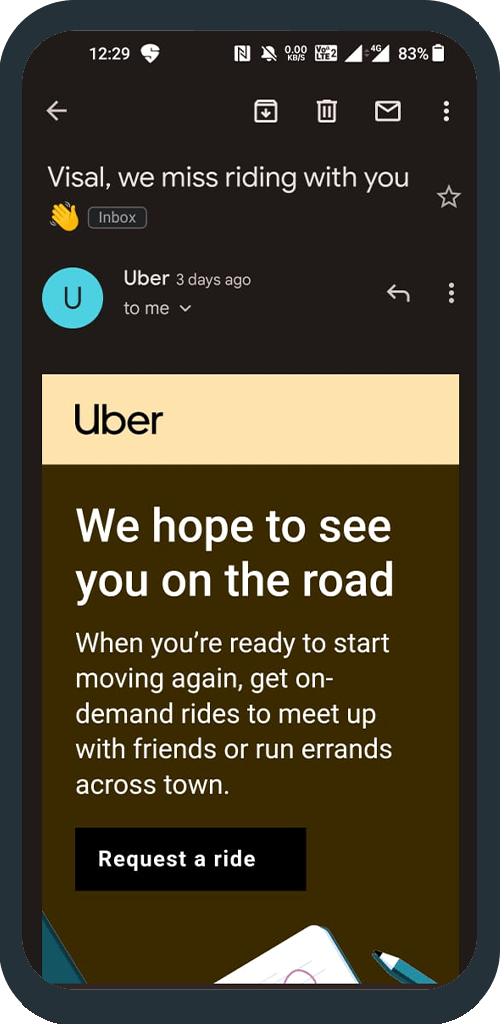 And the best way to gather those email addresses is to add an email subscription form to your app.
Your email strategy can be diverse, depending on your goals. For example, if you want to increase app usage, send an email with a promotion or deal. Or, if you have a blog or newsletter, promote that content in your email and remind your users that they can read it all on their mobile devices.
Email lists are a valuable marketing tool, whether you're trying to draw in new users or keep your existing ones engaged. Something to consider as you develop your app marketing strategy. LinkedIn, Naukri, Indeed, Spotify are some examples of email marketing from the apps.
9. Hybrid Monetization
When it comes to monetizing your app, don't limit yourself to just one strategy. Many successful apps use a hybrid app monetization strategy, which is a combination of two or more strategies to maximize revenue.
Typically, apps that use a hybrid model incorporate a combination of in-app ads and in-app purchases. Not sure which strategies would work best for your app? Try out a few and see which ones generate the most revenue. Xender is an example of a hybrid app monetization strategy.
10. SMS Marketing
Although SMS marketing may be looked down upon by some as being old-fashioned in 2022, if done with style, smarts, and a hint of humor, it can still be an effective way to reach out to your app users and offer them deals on in-app purchases or premium subscriptions.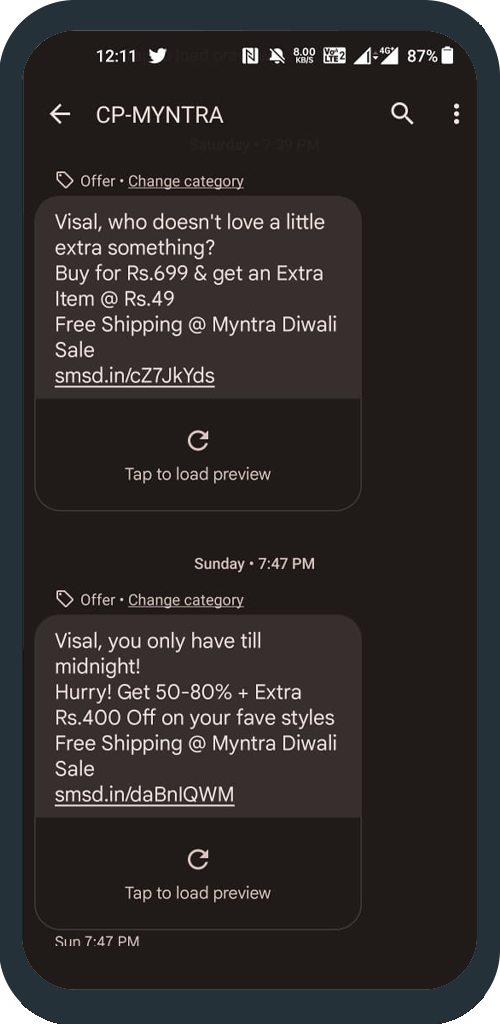 It is always important to make sure that anyone you are reaching out to has given explicit consent for you to use their data. Keep the message short and sweet so as not to bother people at inappropriate times—nobody wants to read a long message about your app when they're trying to enjoy their dinner. As SMS marketing is an ad channel along with several other publisher app monetization strategies, it can be an effective method to optimise the ad revenue of an app up to a certain limit. Banking apps, recharging apps, and some shopping apps like Flipkart, Amazon, Mamaearth, and Meesho are some examples of SMS marketing.
11. Loyalty Points from the Paid Version
Paid games are great for you if your game app has a large fanbase or a DAU of more than 10–20K! Along with your paid version, app publishers can also provide loyalty, rewards, and referrals. You may start giving your app users a distinctive and engaging experience with extra loyalty points that are only available to paid users, which will increase revenue and conversion rate.
By posting the link on your social media platforms, you can encourage people to play and win while also letting them level up, redeem rewards, and make the most of your app with a paid version. Start awarding points to your users for using your app to make purchases, complete certain actions, connect to social media accounts, or refer friends. Implementing and launching a loyalty program that rewards users for referring friends to your app are an option you shouldn't miss!
12. Cashback Offers for Premium Purchases
A cashback offer for in-app premium purchases seems too good to be true. You reimburse a portion of the price that your user spends on a fantastic purchase. In essence, it is similar to a discount, but it is more advantageous to the publisher in the long run.
Users may receive store credit or points that are deposited in their app accounts and can only be used to make future purchases within the same app. As a result, your app users will return for the best purchase, and you will get a long-term user. From a publisher's perspective, a cashback encourages users to come back because users are far more likely to return to the store to take advantage of the offer. Paytm, Freecharge, MobiKwik, Google Pay, and PhonePe are offering cashback.
13. Push Notification for Seasonal Offers on Premium
Push notifications are brief messages that appear on a user's mobile and prompt them to act. Due to their busy schedules, the app users are likely to forget about the fantastic seasonal offers you sent them an email about a few days ago or about the basket they abandoned after adding a lot of items to it. Push notifications might be the ideal form of communication if you want to keep your users informed about the latest offers you are providing or to remind them of the products in their shopping cart that are about to expire. Because of this concept, your users will stick around.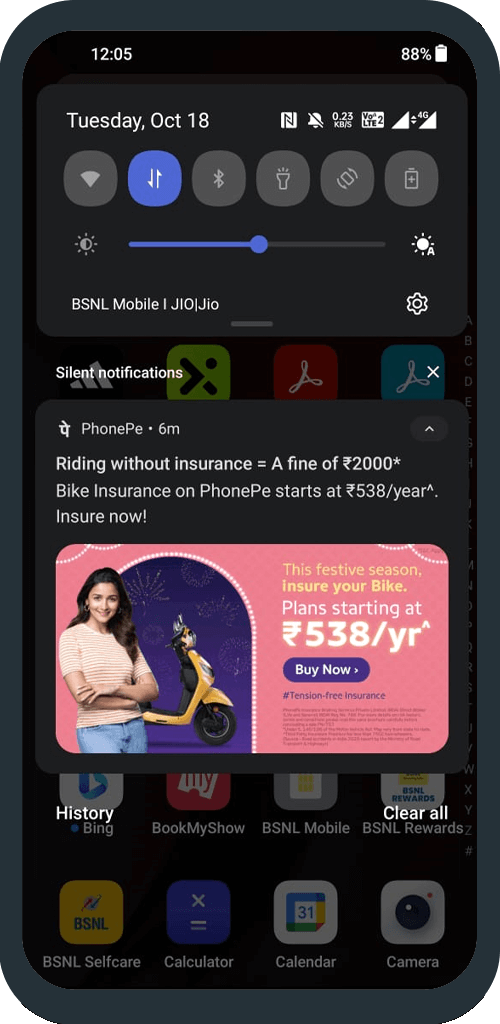 Do push notifications at the right time to get your audience hooked on your app content, as these are significant marketing trends that app publishers cannot ignore any longer. Push notifications are a natural replacement for seasonal promotions in the GDPR era since they operate on the permission-based marketing tenet, which users value above being intruded on with unwanted emails or texts. And obviously, the push notifications increase the user retention rate, and thereby the In-app ad earnings can be increased. For instance, Flipkart, Amazon, and Nykaa are using the Push Notification method.
14. Increase eCPM with Interstitial Ads
Interstitial advertising is one of the most effective in-app ad solutions. Interstitial advertisements, compared to banner ads, have size constraints and are persistent and invasive, occupy the whole mobile screen, and appear at natural transition points within the user flow. This method works best when best practices are followed, with adverts placed after a flow – for example, after a level in a gaming game.
15. Utilize Native Ads
Native ads are a growingly popular ad type in the app monetization model. Native ads are ideally suited to news sites and social media since they fit easily into their host app, appearing as another post in the feed. When used effectively, these adverts cause little disturbance to the user experience.
16. Make use of Licensing
If your app falls into one of the app categories that collects user-generated data by definition (think location data), you should consider licensing this data as a monetization option. Remember, whatever data you gather and your licence must be specifically signed off on by the people concerned. Licensing may work since it allows consumers to use the program for free while the licensing pays for it.
17. Use Crowdfunding to raise capital
Crowdfunding may be an efficient approach to pump capital into a company, particularly in the early phases of a free app. Crowdfunding sites like Kickstarter, IndieGoGo, GoFundMe, and Patreon can provide app creators with another viable avenue for app revenue.
18. Try App Data Monetization
Data from third parties hold value today more than ever, which is information on your app's users, such as their demographics and behavior. Advertisers need this type of data because it helps them to target the correct audience. And this appetite is expected to rise when third-party cookies cease to offer third-party data as they once did. In the future, most app monetization techniques will get built around data collection.
Data monetization works well for publishers with a large and active user base. If you don't have enough people to create a large amount of data, the data you do have is unlikely to have value.
19. Bring Effective Content Strategies to the mix
Regularly refreshing your app's content is one of the more certain strategies to convert new or occasional users into lifetime, paying subscribers. For example, if your company maintains a blog, you might make the most recent article available to consumers through your app. Users will have a compelling motive to return to your app for more.
The reason you need to keep clients returning is straightforward. Many paying customers will buy one or two in-app purchases and never return because they believe they have exhausted the app's capabilities. However, if new content is already getting added, even non-paying users are more likely to become customers.
20. Utilize Video
Throughout time, video content has grown in popularity. According to HubSpot research, more than half of customers prefer viewing brand videos over engaging with other forms of information. Product explainer videos, case study videos, video client testimonials, webinars, and master courses are the most popular video ads. Such video content will raise brand recognition easily.
21. Make use of Retargeting
Not everyone who opens and examines your app becomes a registered user. As a result, retargeting is critical for a successful user acquisition plan. Retargeting is a method of app marketing and monetization in which past app visitors' behavior is analyzed and recorded. You may market your app's discount offers, feature roll-out, or other perks to these users because they are more likely to convert and contribute to your current user base.
Markets with the highest banner ad eCPM for Android apps (June 2022) (in US dollars)
With an eCPM of 0.61 U.S. dollars as of June 2022, the US has the highest eCPM for in-app banner ads in Android apps. With a reported eCPM of 0.45 US dollars, Canada positioned as second, followed by Australia with 0.41 US dollars. About 25% of American app publishers used in-app advertising to monetize as of July 2022.
Reference: https://www.statista.com/statistics/1330103/countries-top-ecpm-android-banner-ads/
Statistics of App Usage
1. The majority of Americans own smartphones. As of 2019, 81% of Americans possessed a smartphone.
2. People use their phones for long hours. Americans used their mobile devices for an average of 3.6 hours a day in 2018.
3. American smartphone users spend 88% of their time on apps.
4. The younger generations use numerous apps. According to research from 2018, more than 21% of Millennials open apps at least 50 times every day.
5. 218 billion app downloads were reported in 2020. That works out to about 28 apps per user.
6. In terms of overall time spent engaging with digital media, 71% of Gen Z are using apps.
Statistics of App Revenue
1. Money is spent mostly on apps! In 2020, consumers spent about $143 billion on mobile apps.
2. Nearly all Americans with high incomes own smartphones. In 2019, more than 96% of Americans earning over $75,000 owned a smartphone.
3. The majority of apps are free. Early in 2021, 96% of apps in the Google Play store and 92% of apps in the Apple App Store were totally free.
4. Mobile Game Revenue is Significant. In 2020, revenue from mobile gaming apps surpassed $100 billion.
5. The $1 trillion mark for app revenue is imminent. Mobile apps generated close to $582 billion in sales in 2020. According to experts, app revenue will surpass $1 trillion in 2023.
Reference: https://www.playwire.com/blog/10-app-monetization-statistics-to-know
Choose the right monetization strategy + Hire the best Ad Tech Team
We compiled a list of effective app monetization strategies that app publishers use in 2022. Which is the right one for you? The decision is, of course, a task as it must satisfy the particular characteristics of your app, including app genre, style, type of user, relevance, etc. By conducting a thorough analysis of your app, the best Ad Tech team can assist you in selecting the best app monetization strategy.
At AdPumb, effective app monetization is made possible! We provide you with access to global demand while guaranteeing 99.99% fill rates and the best price per impression. By exposing your inventory to more bidders, raising the eCPM, and improving the ROI, AdPumb is dedicated to providing publishers with a list of high-quality ad networks. Your ad revenue will quickly increase with our guaranteed app ad revenue optimization services.
No matter where you are, we supply ad demand from 3000+ domains. AdPumb creates a single dashboard for consolidated reports from more than 50 demand reports. Get ready to expand the advertising universe with the combination of demand infusion, eCPM optimization, and advanced payments.
Wrap Up
Which of these app monetization strategies will be the most effective for your app? In the end, you'll need to combine a variety of mobile ad monetization strategies for the best result. You must create a comprehensive approach that incorporates more than one of the app revenue optimization strategies covered in this article. Make sure you are generating the most revenue possible from your app while also balancing user experience with ad revenue.
Running an ad and giving your users the choice to pay for an ad-free experience is a preferable example of how two app monetization strategies may work together to great effect. Visit AdPumb to get a free ad estimation now!
Frequently Asked Questions