Why is your eCPM so Low, and How can it be Improved?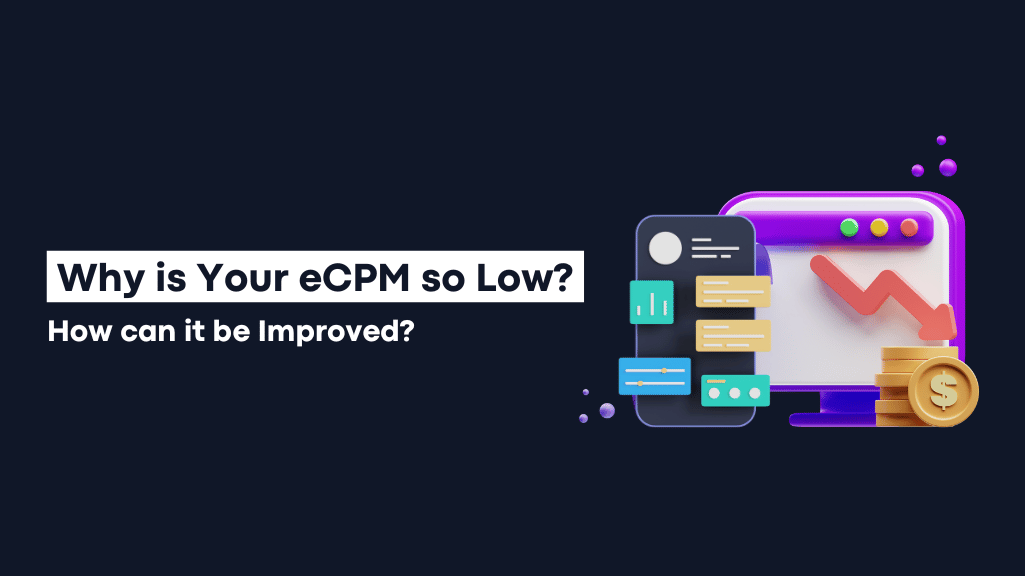 Publishers monetize their apps using a variety of ad-selling tactics. Nevertheless, how can you know what's working and what isn't if you're not measuring the right metrics?
One of the indicators you must monitor if you want to increase ad revenue is your eCPM (effective cost per thousand impressions), which is one of the most significant KPIs in Ad tech; nevertheless, it is easy to confuse it with other revenue metrics. At AdPumb – the definitive programmatic advertising provider, we understand that eCPM is the one measure – you, as a publisher, must grasp.
Here, we'll discuss how to track eCPMs efficiently, calculate, and optimize them to grow your ad revenue.
What is eCPM, and why is it so important?
The effective cost per thousand impressions (eCPM) metric is used in mobile advertising to assess the effectiveness of ad campaigns. Irrespective of the price scheme utilized, it represents the revenue earned per thousand impressions (e.g., CPC, CPM, CPA). Essentially, eCPM shows you how much money you can anticipate making per 1,000 impressions of your ad.
eCPM is significant since it allows advertisers and publishers to compare the success of various ad campaigns and networks. You can identify which ads earn the most revenue by reviewing eCPM data and which advertising may need to be optimized or deleted.
Furthermore, eCPM is a standard for optimizing and increasing revenue from mobile advertising. For example, if you see that specific ad types or locations have a higher eCPM, you can direct your efforts toward increasing revenue in these areas.
In a nutshell, eCPM assists advertisers and publishers in evaluating the performance of their campaigns and identifying chances for optimization and revenue growth.
What distinguishes eCPM from CPM?
To fully grasp the notion of eCPM, it is necessary to understand the concept of CPM.
CPM stands for "Cost per Mille." Advertisers utilize this metric to estimate the cost of their ad campaigns and the reach they will have with their budget. eCPM, on the other hand, also known as effective cost per thousand impressions, is a metric used by publishers to estimate the advertising revenue they can expect to receive from every thousand ad impressions.
The main distinction between CPM and eCPM is that CPM is exclusively used to calculate cost per thousand impressions in a CPM ad purchasing strategy, and eCPM is the revenue statistic that can get utilized for any pricing mechanism.
What is the correlation between eCPM and revenue?
Assume you're a publisher with a daily impression rate of 100,000. You're experimenting with several revenue methods and want to concentrate on monetizing through display ads. You install Google Ad Management and add ad units to your app. After a week, you calculate an eCPM of $3 in your revenue dashboard, which means you used the following formula: eCPM = Total Ad Revenue / Impressions multiplied by 1000.
Finally,
Multiply your Total Ad Revenue ($300) by your Impressions (100,000) to get ($300 / 100,000) x 1000 eCPM = $3.
Hence, for every 100,000 impressions you generate, advertisers pay you $300, earning $3 for every 1,000 impressions your app generates. If your app traffic remains steady at 100,000 impressions per day for the following 30 days, you'll earn $9,000 in ad revenue at a $3 ad eCPM.
What's the deal with my low eCPMs?
There could be several causes for the low eCPM (effective cost per thousand impressions). Here are some probable ones:
1. Targeting

Your ad targeting may be ineffective. Advertisers are willing to pay more for highly targeted advertising and reach their intended demographic. At AdPumb, we know it is imperative to see that you're targeting the proper users with your app and employing ad networks with comprehensive targeting capabilities.

2. Ad format

Your ad format may not be unappealing to advertisers. Some ad formats (for example, interstitial ad) have greater eCPMs than others (such as banner ad). Play with various ad formats to find which ones produce the best eCPMs.

3. Competition

Ad spots in your app may face stiff competition, resulting in lower eCPMs. Try using numerous ad networks or changing your ad inventory to lessen competition and maximize the value of each impression.

4. App engagement

Users may spend less time interacting with advertising if your app isn't entertaining enough, resulting in lower eCPMs. To encourage users to spend more time in your app, make it user-friendly and intuitive, and provide a great user experience.

5. Ad frequency

If you show too many ads, consumers may feel irritated and tune them out, resulting in lower engagement and eCPMs. Try lowering ad frequency or employing a more advanced ad-serving system to display ads at the appropriate moment.

6. Ad quality

If the ads displayed in your app are of poor quality or unrelated to your customers' interests, marketers may be less eager to pay a premium for such ad spots, making it essential to make sure the ads are of good quality, relevant, and entertaining.

7. Ad fraud

Ad fraud in the mobile advertising market influences eCPMs. Fraudulent ad clicks or impressions can degrade the value of your ad inventory and lower eCPMs. Consider putting anti-fraud safeguards in place to protect your app and your advertisers.

8. Seasonal trends

ECPMs can also change in response to seasonal trends, such as holidays or important events. Advertisers may be ready to pay more for ad spots at specific seasons of the year, resulting in higher eCPMs. We urge you to look for seasonal trends and alter your ad inventory as needed.
It is critical to monitor your eCPMs frequently and experiment with different tactics to find the ones that work best for your app. It's also worth noting that there isn't a one-size-fits-all method for improving eCPMs. The ideal approach will get determined by the app and its audience. We suggest you keep track of your eCPMs and try different techniques until you find what works best for your app.
How to increase your eCPM?
In addition to working to mitigate causes for the low eCPM described above, the approaches listed below can additionally help you enhance your eCPM. These include:
1. Boost your traffic

Your revenue is related to your traffic, which is why traffic is the first question ad networks and marketers ask when looking for publishers. Similarly, increasing your app traffic can help you optimize your earnings. Depending on your budget, you can opt for organic, paid, or both ways of traffic generation.

2. Increase the number of SSPs in your ad tech stack

Experiment with several ad networks, SSPs, and mediation providers to find the optimum mix for effective monetization. Several configurations should be tested and optimized based on eCPM, fill rate, and overall revenue.

3. Optimize ad placements

Experiment with various ad locations within your app and see which ones work best for your users. It is best to place ads in areas where users are likely to spend more time, such as between levels in a game or during natural gaps in content.

4. Optimize your ad viewability score

One of the factors that advertisers consider when purchasing ad inventory is viewability, which is because people must see your advertising for them to count as an impression.

5. Enhance your UX

The performance and loading speed can mean the difference between success and failure in your efforts to increase eCPM. Ensure your app's performance is fast enough to meet the needs of your users promptly. It will help you improve ad impressions and clicks, resulting in a greater eCPM.

6. Try out creative A/B testing

Experiment with various ad creatives to find which ones perform better for eCPM. To find the most effective mix for your app, try experimenting with different mobile ad formats, colors, text, and images.

7. Try out Ad Refresh

Ad Refresh can assist publishers in increasing eCPM each session. The ad units refresh themselves following specified triggers, such as user activity (click, hover) and time (after 30 seconds), allowing publishers to increase the size of their inventory.
Sign up for Programmatic Ad Mediation with AdPumb
Ad mediation services can be the answer you have been looking for to increase their eCPMs. When implementing an Ad mediation platform into their application, every app developer achieves better results than when using multiple single Ad networks. AdPumb, for example, utilizes programmatic ad mediation wherein the service connects the publisher with numerous networks and makes them bid for ad units. AdPumb handles all this by employing tried-and-true monetization tactics to deliver the highest eCPM feasible.
What did we learn?
We learned about eCPM, how it gets calculated, and how publishers may boost it.
Effectively utilizing the tactics discussed can get you off to a terrific start!
Frequently Asked Questions