Top 18 Mobile Ad Mediation Platforms for Mobile Apps & Games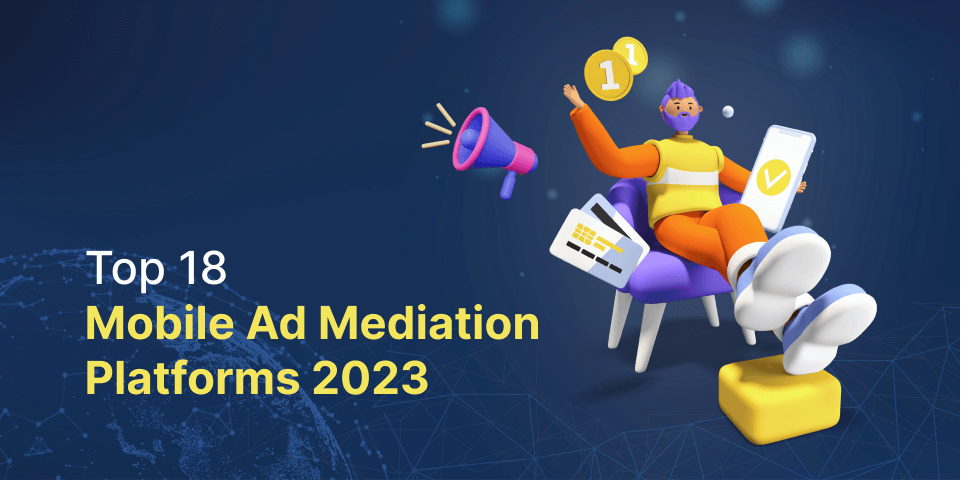 Ad Mediation in AdTech streamlines the management of ad sources used to display advertising in apps. With an effective ad mediation platform, one may send incoming ad requests to several ad sources to get ad requests filled by the best available ad sources. Top mobile ad mediation platforms include:
1. AdMob Mediation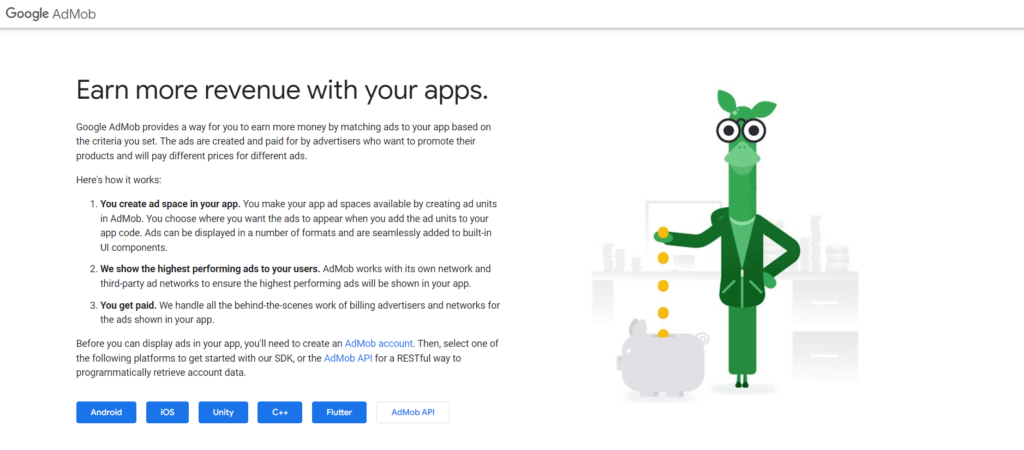 Headquarters: California, United States
Founded: April 2006
Founder: Omar Hamoui
Overall Rating: 4.6/5
Google AdMob is a popular ad mediation tool among publishers. Because AdMob offers more ad networks than other mobile ad mediation platforms.
Aside from being suited for small and medium-sized developers, the ad mediation platform allows you to handle many ad networks from a single location. Google AdMob presently interacts with 25 different ad networks. AdMob supports a variety of ad networks, including AdColony, AppLovin, Chartboost, Facebook Audience Network, Fiber, InMobi, ironSource, Leadbolt, Maio, MobFox, MoPub, Tapjoy, Tencent, Unity Ads, and Vungle.
Website: https://admob.google.com/home/
2. MAX by AppLovin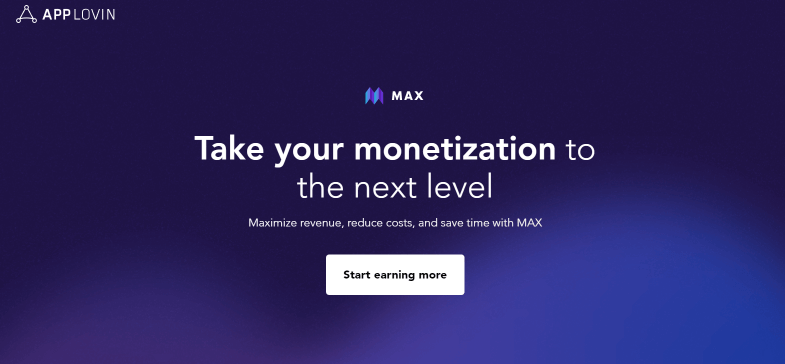 Headquarters: California, United States.
Founded: 2017
Founder: Adam Foroughi
Overall Rating: 4.3/5
The AppLovin platform 'MAX' has robust capabilities that make it simple to manage numerous ad networks, optimize ad distribution, and ultimately create better results for your app.
One of MAX's primary advantages is its powerful targeting capabilities, which enable you to send highly relevant advertising to your users based on their interests and habits, help enhance ad revenue and improve engagement rates over time. AppLovin's rich reporting and analytics tools, which give in-depth insights into the efficacy of your ad campaigns, are another noteworthy feature. The mobile ad mediation platform also helps track metrics like impressions, clicks, and revenue using real-time data and customizable dashboards and makes data-driven choices to enhance your ad campaign.
3. ironSource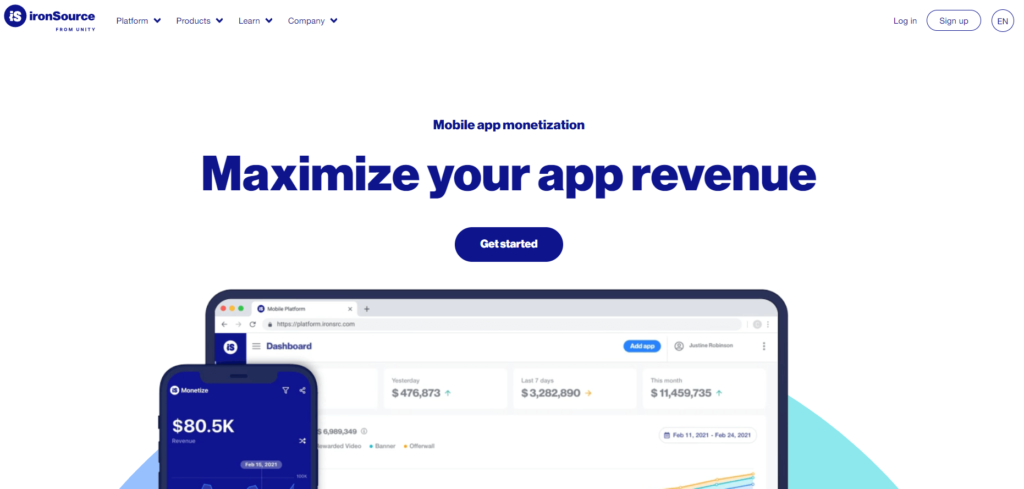 Headquarters: Tel Aviv-Yafo, Israel
Founded: September 2010
Founder: Tomer Bar-Zeev
Overall Rating: 4.4/5
IronSource, regarded as one of the best mobile ad mediation platforms, helps publishers enhance their ad revenue and eCPMs.
Publishers may manage 15 ad networks and personalize the app monetization approach using ironSource's numerous mediation techniques. Publishers utilize ironSource for its diverse ad formats, automatic ad mediation, and essential indicators such as MAU/DAU, ARPDAU, etc.
Website: https://www.is.com
4. Appodeal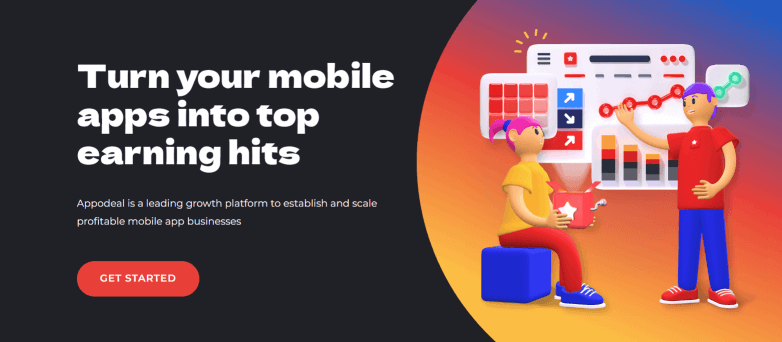 Headquarters: San Francisco
Founded: 2014
Founder: Natalie Portier, Pavel Golubev
Overall Rating: 4.6/5
Appodeal has two distinct benefits. One, it has the most ad networks compared to any other ad mediation platform. Around 60 ad networks will compete for your ad inventory, resulting in an optimized revenue stream with improved fill rates.
The second distinct feature is that, unlike any other ad mediation platform, Appodeal provides parallel bidding. Parallel bidding differs from header bidding and can get used in place of the waterfall approach. Whereas the waterfall technique sends ad requests sequentially, preferring one network over another based on who gives the best fill rate, parallel bidding sends ad requests concurrently. It raises the level of competition, resulting in better eCPM and ARPDAU, eventually increasing and optimizing overall ad revenue.
Website: https://appodeal.com/
5. Chartboost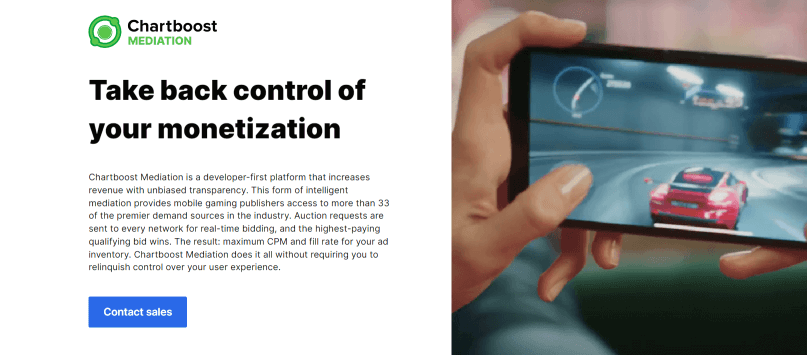 Headquarters: San Francisco, United States
Founded: 2011
Founder: María Alegre Ribas
Overall Rating: 4.5/5
Chartboost ad Mediation is a developer-focused tool that boosts revenue by providing fair transparency. This clever mediation gives mobile game companies access over 33 of the industry's top demand sources. Every network receives auction requests for real-time bidding, and the highest-paying qualified bid wins. As a result, your ad inventory will have the highest CPM and fill rate possible. Chartboost Mediation performs everything without needing you to give up control of your user experience.
Website: https://www.chartboost.com/
6. Digital Turbine FairBid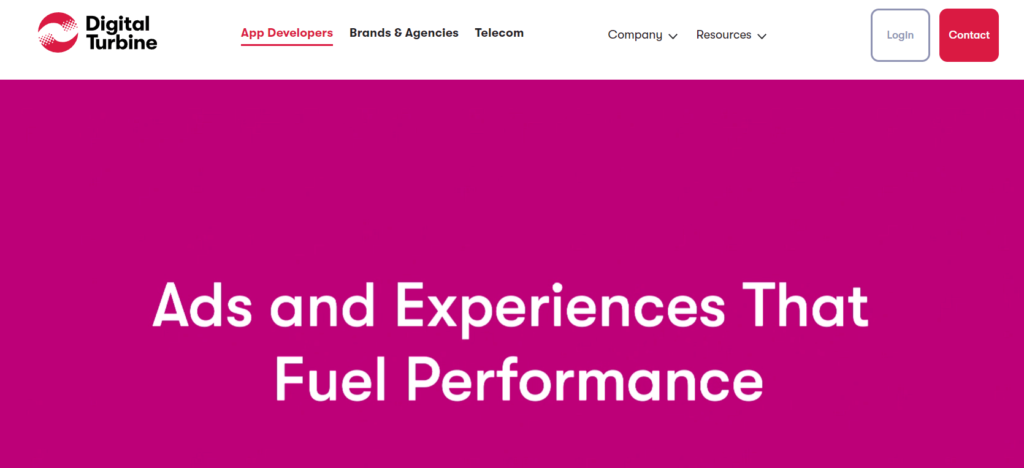 Headquarters: Texas, United States
Founded: 1998
Founder: Bill Stone
Overall Rating: 4.0/5
DT FairBid employs a single auction ecosystem. DT Exchange is the name given to this unified auction environment. A real-time auction is made possible via DT Exchange.
Each ad impression is concurrently offered and sold to the highest bidder in real-time auctions. Among these bidders are demand sources such as programmatic buyers (DSPs), programmatic mediation buyers, and mediation buyers.
Website: https://www.digitalturbine.com/
7. AdPushup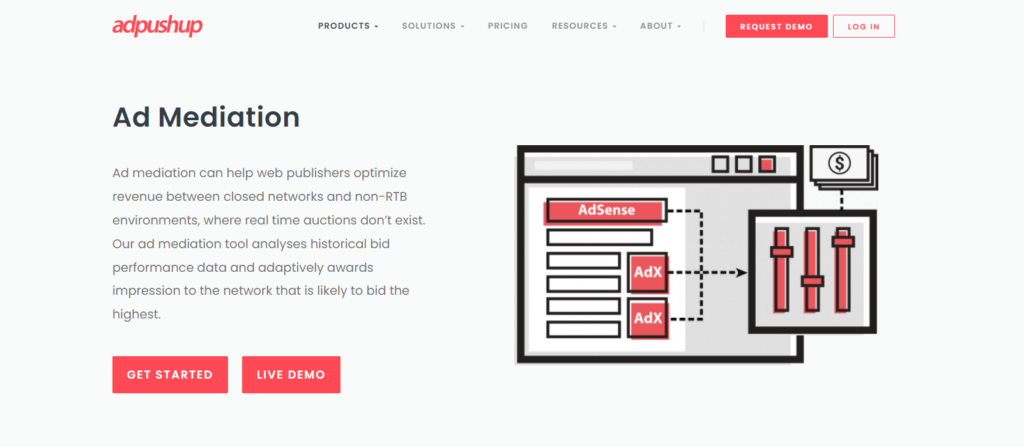 Headquarters: Delaware, United States
Founded: 2014
Founder: Ankit Oberoi
Overall Rating: 4.2/5
AdPushup aids publishers increase their ad revenue using monetization techniques. These include header bidding, innovative ad formats, and Adblock recovery. The provider is a Google Certified Publishing Partner funded by Microsoft Ventures (GCPP). AdPushup boosts competitiveness for your ad inventory by allowing you to access demand from Google, Amazon, and Rubicon. Publishers may also benefit from knowing which ad networks make the most for them and at what time of day, all in one dashboard.
Website: https://www.adpushup.com/
8. Unity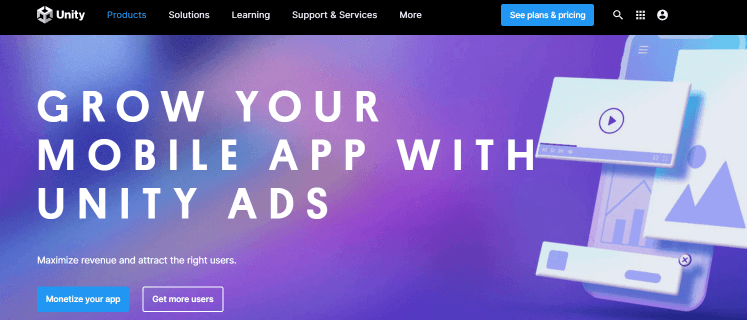 Headquarters: Copenhagen, Denmark
Founded: 2004
Founder: David Helgason, Nicholas Francis, Joachim Ante
Overall Rating: 4.3/5
Unity Mediation enables publishers to monetize their applications by giving them access to high-quality, broad advertising demand that competes for their impressions. When demand sources compete to show their ads, this can lead to greater eCPMs and better fill rates to maximize app real estate for publishers.
Unity Mediation seeks to save publishers time by optimizing ad revenue, matching pricing strategies with audience segmentation, optimizing ad revenue, rapidly generating revenue, monitoring strategy performance, and providing direct access to demand sources and ad networks from a single SDK.
Website: https://unity.com/products/unity-ads
9. Admost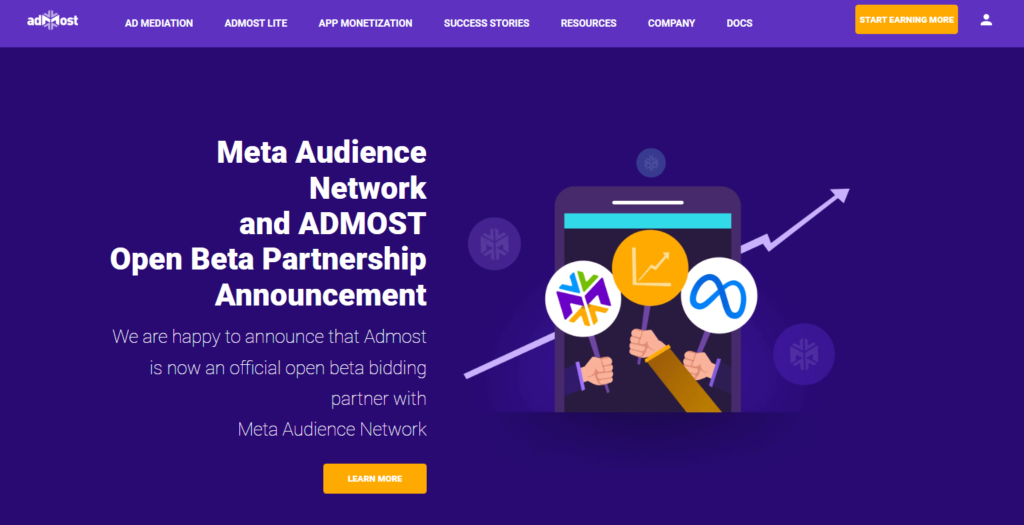 Headquarters: Istanbul, Turkey
Founded: 2004
Founder: Erdem Yurdanur
Overall Rating: 4.0/5
One of Admost's missions is to expose what is happening within ad networks and publishers with the chance to control and terminate with fully-transparent data. Admost has no affiliation with any ad networks, and its algorithm only works on behalf of publishers, giving first-look opportunities to ad networks that deserve it.
Website: https://www.admost.com/
10. ConsoliAds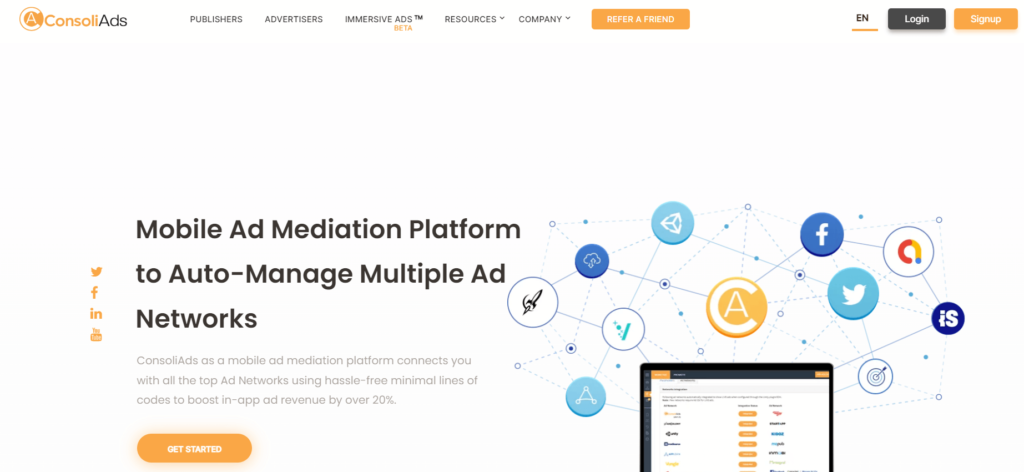 Headquarters: Singapore
Founded: November 2016
Founder: Erdem Yurdanur
Overall Rating: 4.3/5
ConsoliAds, a mobile ad mediation platform, links you with all the main Ad Networks while requiring only a few lines of code to increase in-app ad revenue by over 20%. ConsoliAds enables mobile app publishers to generate and increase in-app revenue. The platform thrives as a one-stop shop for mobile growth options that are both successful and scalable.
Website: https://consoliads.com/mediation/
11. Tapjoy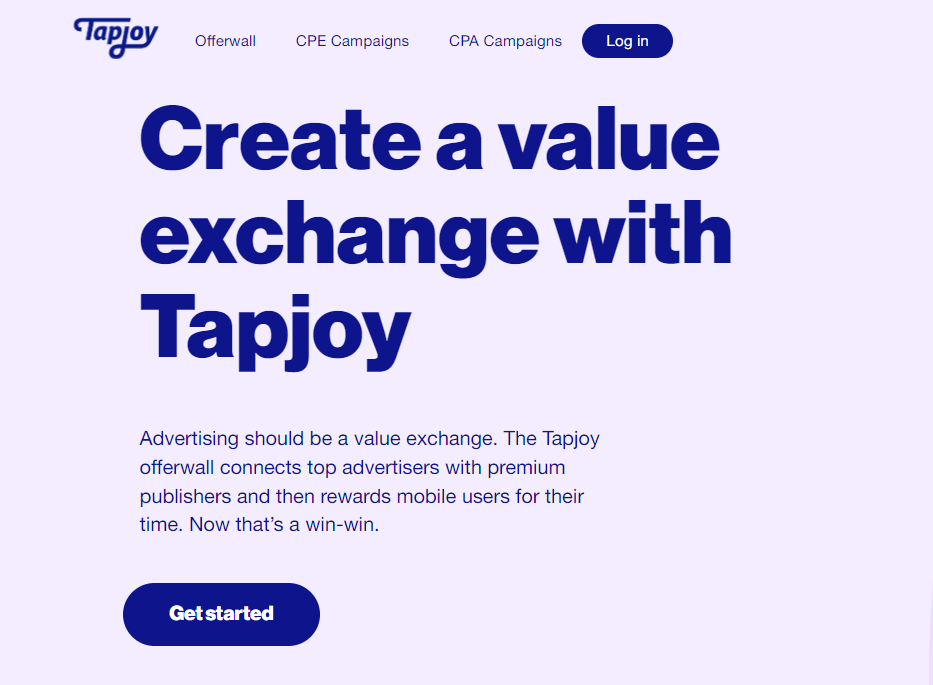 Headquarters: Tel Aviv-Yafo, Israel
Founded: September 2010
Founder: Tomer Bar Zeev
Overall Rating: 4.4/5
Tapjoy's ad network links publishers with high-quality demand sources. This solution will assist in monetizing each user to their full potential. TapJoy also allows publishers to maximize app revenue with the Tapjoy offer wall.
On average, offer walls get used by 15% of the top 100 grossing apps. This number rises to 25% for the highest-grossing mobile games. With eCPMs for Android in the US topping $1,000, Tapjoy is the market leader in the offer wall sector, making this mediation provider one to watch.
Website: https://dev.tapjoy.com/en/support/Programmatic-Mediation
12. InMobi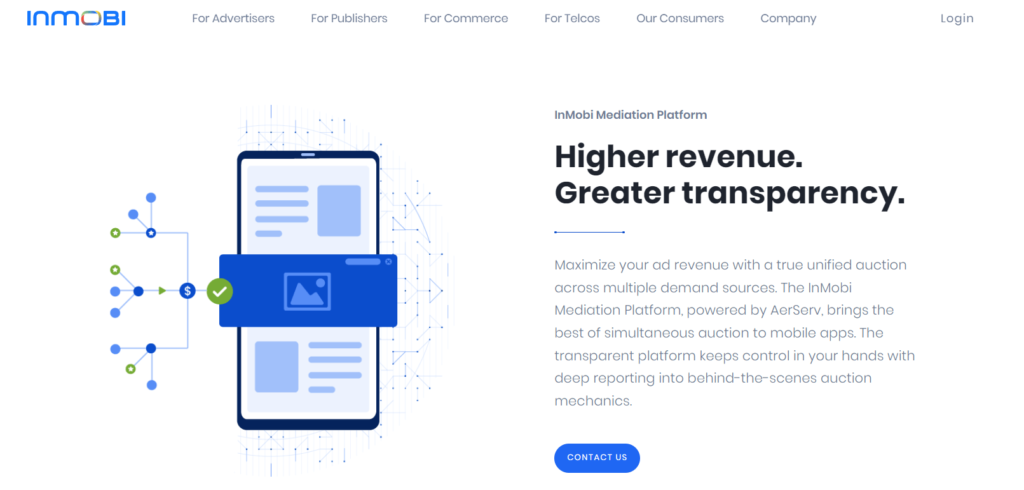 Headquarters: Karnataka, India
Founded: 2007
Founder: Naveen Tewari; Mohit Saxena; Amit Gupta; Abhay Singhal
Overall Rating: 4.3/5
The AerServ-powered InMobi ad mediation platform delivers the advantages of the simultaneous auction to mobile apps. The transparent platform puts the power in your hands by providing detailed reports on auction mechanics.
Publishers may effectively utilize InMobi to get premium and diversified advertising revenue from the world's leading brand advertisers via direct and programmatic channels. The InMobi Exchange provides exclusive access to 200+ DSPs and over 5,000 programmatic buyers representing leading global brands.
Website: https://www.inmobi.com/advertising-cloud/mediation
13. OpenMediation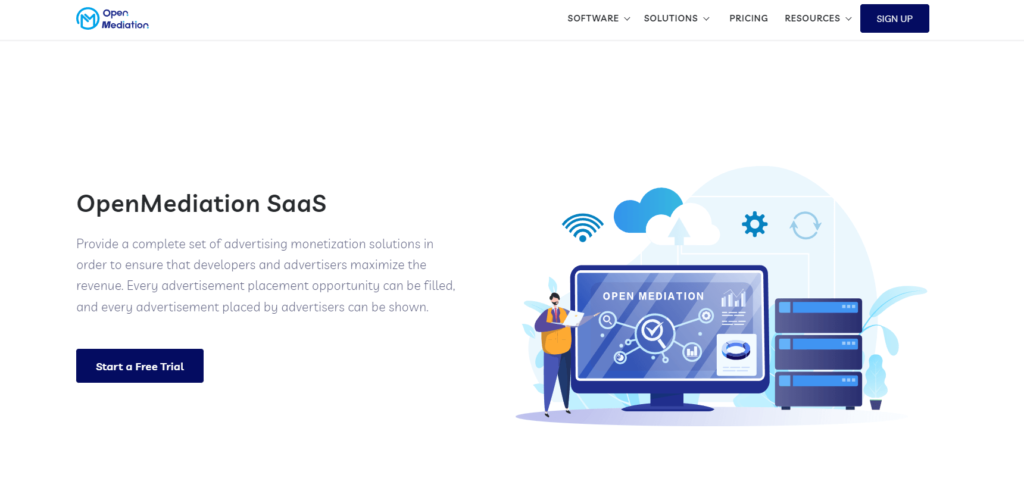 Headquarters: Hong Kong
Founded: 2019
Overall Rating: 4.3/5
OpenMediation is a one-stop shop for all your monetization needs, offering a comprehensive set of advertising monetization options for developers, allowing every ad spot to get filled.
Website: https://openmediation.com/en/
14. Smaato

Headquarters: San Francisco, United States
Founded: 2005
Founder: Ragnar Kruse and Petra Vorsteher
Overall Rating: 4.3/5
Smaato Mediation provides all-in-one mediation and bidding solutions to publishers, making it simple for them to increase fill and revenue. They support all ad formats and are fully omnichannel, giving you complete control over your inventory monetization approach. Smaato allows you to do it all in one spot, whether you want to define bespoke tiers and priority for your waterfall or use header-bidding capabilities.
Website: https://www.smaato.com/publishers/integration-center/#mediation
15. SmartyAds

Headquarters: New York, United States
Founded: 2013
Founder: Ivan Guzenko
Overall Rating: 4.1/5
SmartyAds provides smart bidding and competitive auctions to the mobile ecosystem to assist app developers in determining the true worth of their digital inventory. SmartyAds' in-app Header Bidder is optimized for a fast-paced mobile environment, offering a low-latency solution with simple SDK integration. The next-generation in-app header bidding solution allows mobile publishers to conduct auctions with numerous demand sources at the same time, allowing them to fully monetize mobile traffic.
Website: https://smartyads.com/header-bidding
16. Mintegral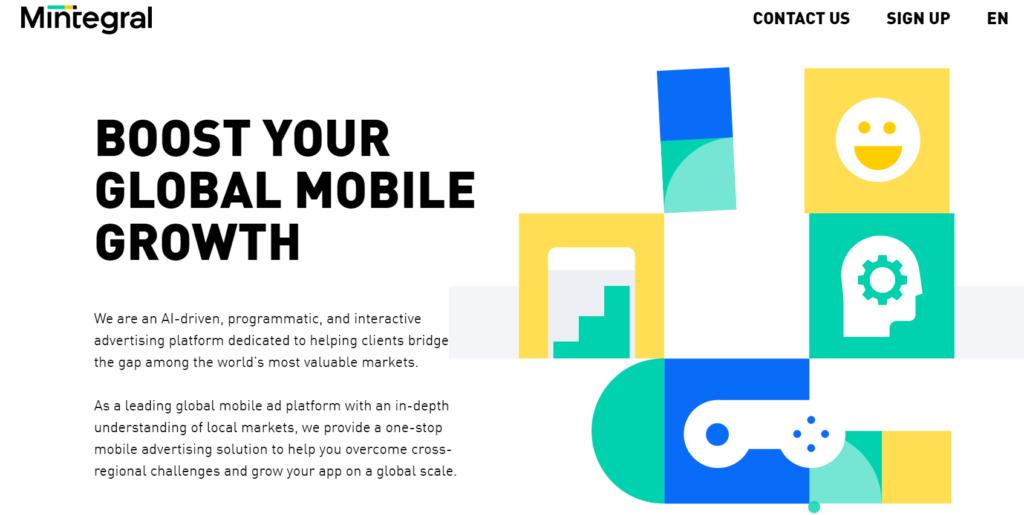 Headquarters: Singapore
Founded: 2016
Founder: Robin Duan
Overall Rating: 4.2/5
MobVista's ad mediation platform is called Mintegral. They are an AI-powered, programmatic, and interactive advertising platform committed to bridging the gap between the world's most lucrative marketplaces. Mintegral, a leading worldwide mobile ad platform with a deep understanding of local markets, offers a one-stop mobile advertising solution to assist you in overcoming cross-regional issues and growing your app on a global scale.
Website: https://www.mintegral.com/en
17. Epom apps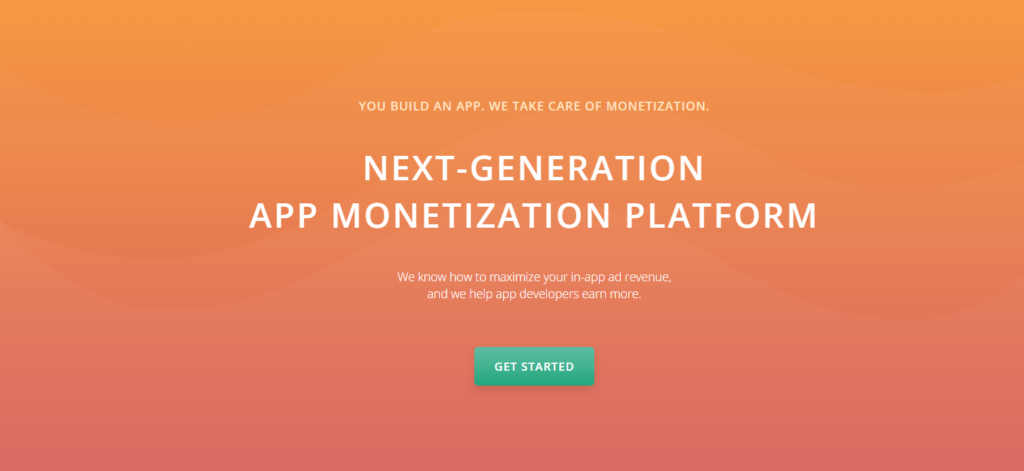 Headquarters: Kyiv, Ukraine
Founded: 2011
Founder: Sergey Chudnovsky, Alex Lunkov and Anton Ruin
Overall Rating: 4.0/5
Epom supports a wide range of in-app advertising formats, from traditional to cutting-edge. Select native units, interstitials, or banners that will work well with the layout of your app. Furthermore, their mediation system handles all of the efforts of determining the best pricing and the most appropriate ad for each slot.
Website: https://apps.epom.com/
18. AdPumb

Headquarters: Kemp House, London
Founded: 2017
Founder: Arshed Gulshan
Overall Rating: 4.9
We've saved the finest for last. AdPumb connects 'You,' the publisher, to several Ad Networks. AdPumb exposes your inventory to more bidders, raising your eCPM and ROI. Using their tried and established Ad Revenue Optimization tactics like fill rate control and eCPM optimization, we guarantee an increase in your ad revenue. Regardless of your region, we fulfil ad demand from over 3000 domains. With AdPumb, you practically open the entire universe of Advertising.
Website: https://adpumb.com/ad-mediation/
How Can Ad Mediation Increase Your Ad Revenue?
Mobile ad mediation platforms are a go-between for publishers (app developers) and ad networks. As it receives ad requests from your app, it forwards them to many ad networks, which forces them to compete for the ad spot, with the highest bidder winning.
Manage Several Ad Networks from One Location – Most publishers operate with various ad networks. If you're one of them, you know how difficult it is to manually manage 10, 15, or more separate ad networks. Therefore, it is not easy to track each one's performance. So, you're not just squandering time and effort but also not optimizing your ad earnings.
This situation is where ad mediation comes into play. It opens access and controls all your ad networks from a single platform.
Reduced SDK Bloat – If you have worked with several ad networks without an ad mediation platform, you'd have to take up the headache of integrating SDKs for each one separately. Not only that, but you'd have to keep track of changes for each SDK.
If you work with a mobile ad mediation platform, you need one SDK. Therefore, integration is typically quick and easy. All of this is beneficial to app developers.
Increased Control – When generating revenue with your app, you look for complete control. Before ad mediation came into the mix, selling and purchasing ad space was unorganized and difficult to trace. Also, the pricing was inconsistent, which was far from ideal.
Publishers may now easily manage how and to whom they want to sell their ad inventory. Although most systems automate the mediation process, you can still tailor the waterfall by manually providing precedence to chosen ad networks.
Improved eCPMs – The most significant ad mediation benefit is higher eCPM rates, accomplished by connecting you with numerous ad networks via an ad mediation platform. As many demand sources compete for impressions, the rates for impressions rise.
Improved Fill Rates – Fill Rates are the percentage of ad requests that get responded to. Fill Rates, like eCPMs, is an equally essential KPI in AdTech. Ad mediation boosts your fill rate, which is a benefit. Publishers may have access to 10, 20, or more ad networks depending on the ad mediation platform they work with. Occasionally, even more. If one ad network does not fulfil the request, the mediation process will further proceed to the next one until the ad unit gets filled. All this increases the fill rate and assures that your inventory gets sold. Mediation partners such as AdPumb promise near-perfect Fill Rates (99.99%), implying that all your ad requests get answered.
Maximized Ad Revenue – When eCPM rates rise and fill rates improve, you get to increase your revenue. As a result, ad mediation increases ad revenue for the app developer, which is, without a doubt, the most significant advantage.
Why is AdPumb's Definitive Programmatic Ad Mediation the best option?
There are two forms of mediation in Google AdMob mediation: bidding and waterfall. Ad suppliers compete in a real-time auction to fulfil ad requests via bidding. Waterfall mediation calls ad sources one by one owing to the average set eCPM rather than what the ad source is ready to pay for the unit. In AdMob, you can also establish a hybrid arrangement by combining bidding and waterfall ad sources in the mediation groups.
The situation is a little different with AdPumb. This minor distinction may significantly impact AdTech KPIs such as Fill Rates, eCPMs, and, as a result, the revenue generated. AdPumb employs a hybrid arrangement that is automated. Compared to other mediation providers such as Google AdMob and Meta Audience Network, this allows you to enjoy all of the benefits of mediation without any effort from the publisher. Publishers need to integrate a single lightweight AdPumb SDK in the app's code, and AdPumb will handle the rest. Subscribe today to unlock the revenue you have been leaving on the table all along!