Best ways to Balance Ad Revenue with User Experience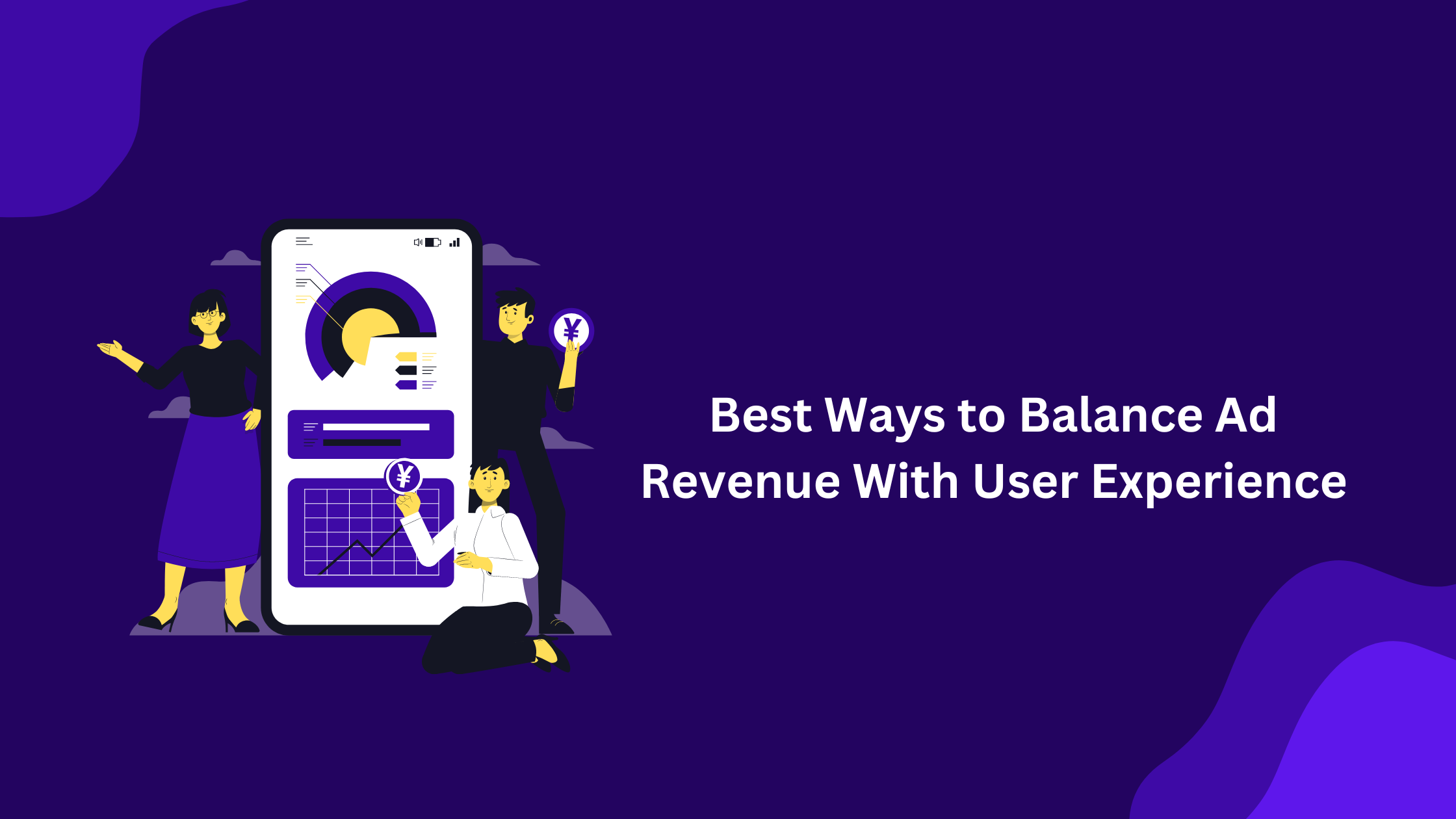 It is no secret that some applications generate more revenue than others. Similarly, analytics may demonstrate that some apps have more bounce rates than others. Some publishers may even believe that a high bounce rate, which is frequently the result of a bad user experience, is okay as long as revenue gets generated. However, to get the most out of your ads, publishers must balance user experience and ads to discover the sweet spot between collecting ad money and keeping their users happy.
Here are some suggestions that can assist publishers in enhancing their ad quality for a better user experience.
1. Engage with Context
When serving ads on the app, its relevance can make or break the advert. Generally, you should fulfil user objectives before presenting more of what they could potentially value.
Any information should have ads associated with it since this provides a natural extension for the user's interest. Contextual ads enhance engagement, click-through rates, and conversions. Make sure that ads are not getting chosen to generate rapid high revenues. You may have little influence over ad personalization as a publisher. You could, however, reduce the number of irrelevant ads on your site.
2. Avoid Overcrowding your App with Ads
Keep the app content and ads balanced. It will not be pleasant if/when a user consumes more ads than content. Content should be the 'value' you supply to the user, and ad revenues are what you receive in exchange for that value. Users return to sites that provide more value to them.
3. Make sure to Label Ads
The ads on your app should be labelled as ads rather than native content. When users accidentally come upon ads, they may feel duped. If you and your user's trust is lost, you may lose your user for good.
4. Make your Ads Load Faster
When your ads do not load on time, they leave a blank area inside the content. It disrupts the page's continuity, which may irritate the user. A few circumstances can also give the impression that the content is complete, and the user can navigate away from it. The bounced user may conclude that your site contains insufficient information.
5. Include Personalized Ads
Personalized ads evaluate the user based on data factors such as demographics, region, interests, behavior, weather, device, time of day, etc. When all of these data points for a single user get evaluated, it becomes possible to paint an accurate forecast of what the user needs at any given time. Ads that can assist meet the need are delivered once the requirement gets evaluated. Personalized ads keep publishers from annoying consumers with irrelevant ads.
6. Test and Optimize your Ads Regularly
Do not isolate ads from your website content, as this places them outside your control. It takes a substantial amount of time and effort to optimize ads. A variety of factors influence mobile ad revenue. We urge you to begin with ad placements, which can be beneficial because this may not significantly impact the user experience. For best results, use A/B testing or multivariate testing.
You must be attentive to how users engage with your app across geographies, time zones, and demographic categories. Gaining such insights might assist you in increasing engagement through more contextual and customized ads. Continuous and regular testing will keep you ahead of the curve by allowing you to respond to changing user behavior.
7. Collaborate with Higher-CPM Partners
Some advertising networks pay more than others. However, this cannot be the determining element throughout the decision process. It is required to examine the significance and quality of the advertising since the CTR and effective CPM will establish whether the best-located and best-sized ads are performing to their full potential over time.
Ideally, publishers should collaborate with app monetization partners to test, assess, and optimize their programmatic advertising regularly, which will help them to detect any potential issues, non-performing ads or new opportunities. Ideally, publishers should collaborate with an experienced platform like AdPumb, which can quickly improve in-app income; AdPumb links your app inventory to 3000+ demand partners to provide yield and demand. Publishers benefit from proven ad serving technologies such as ad mediation, fill rate management, and eCPM optimization, giving them power and total control like never before!
Conclusion
At AdPumb, we believe when ads get presented correctly, they do not detract from the user experience. Ads should not interfere with the user's ability to consume the content. Blanket bombing and imposing views that degrade the user experience benefit neither advertisers nor publications. It is hence imperative for publishers to make sure the Ads enhance the user experience and deliver the proper value to the user.