20 Best Mobile App Monetization Platforms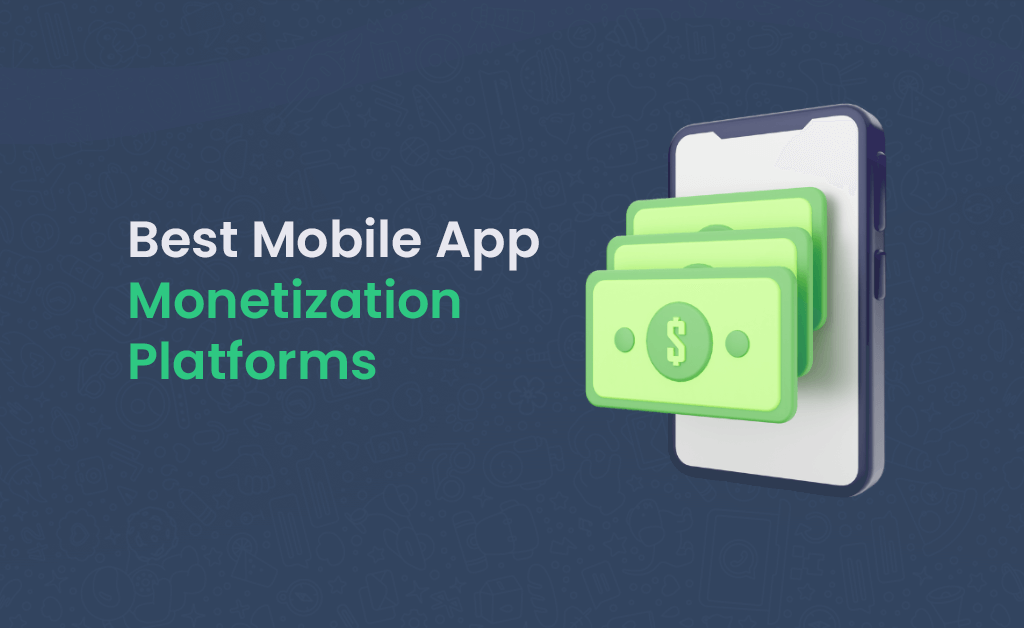 Mobile apps have become a must-have for smartphone users, from entertainment and dating to shopping and banking. Joining a monetization platform helps publishers monetize their applications by giving advertisers ad space. Your dreams of developing a profitable app business will get wrecked unless you have a solid monetization strategy.
According to projections, revenue generated will reach around 613 billion U.S. dollars by 2025. The Mobile App monetization platforms we discuss here present proper app monetization that help generate revenue that you've been missing out on. See the top 20 Mobile app monetization platforms.
List of Top Mobile App Monetization Platforms
1. Google AdMob

Google AdMob Overview

Google AdMob is the most popular mobile advertising network, with millions of app developers using it. You must provide advertising space in your application to have access to AdMob. Advertisers will then compete for your ad space, and based on their interests, AdMob chooses the most profitable ad for the users.

Google AdMob Features
Because of Google's well-integrated ecosystem, you can use Google Firebase to measure how people interact with advertisements in your app.
Another intriguing aspect of the provider is the ability to customize the ad exposure length and number of impressions.
You may further utilize Google AdMob's mediation to interact with many ad networks simultaneously.
Website: https://admob.google.com/home/
Overall Rating: 4.8/5
2. AdPumb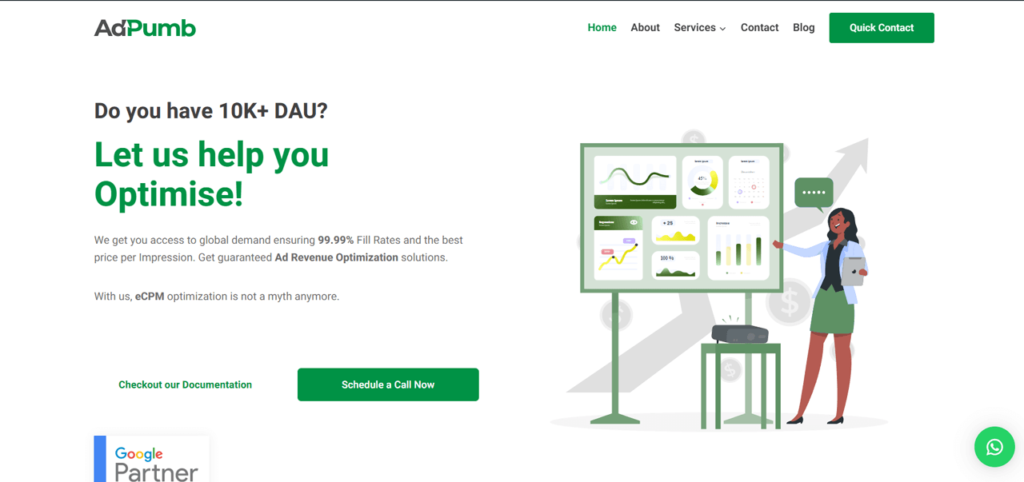 AdPumb Overview
AdPumb app monetization platform, lets you access global demand ensuring 99.99% Fill Rates and the best price per Impression. AdPumb supplies demand from over 3000 domains, regardless of your location. You essentially unlock the whole world of Ads with AdPumb.
AdPumb Features
Fill rate management lets your ad inventory get utilized and all your Ad requests – served.
In-app bidding presents the highest possible eCPM values using their programmatic selling techniques, which get realized by auctioning off your inventory in a simultaneous bidding event to all demand sources.
You access a unified dashboard for consolidated reports from 50+ Demand Partners.
Lightweight SDK allows you to drive in demand and presents publishers with ease of integration.
Website: https://adpumb.com
Overall Rating: 4.7/5
3. Audience Network by Meta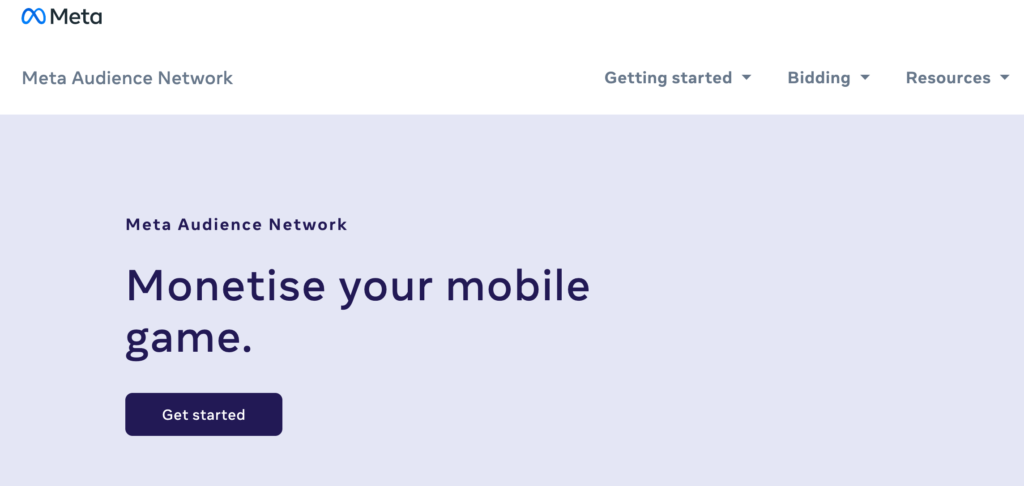 Meta Audience Network Overview
The Meta (Facebook) Audience Network can assist you in monetizing your iOS or Android app. For generating revenue, you will require an app from the Google Play Store or App Store and a Facebook account. Meta Audience Network also works globally and supports the do-it-yourself monetization strategy, allowing you to easily and quickly set up and profit from ads.
Audience Network Features
Adverts get shown on a separate network.
Audience Network placements are less expensive than those on Instagram and Facebook. As a result, your average CPC will decrease. Because of this, the publisher in you will be ready to buy more slots and progressively expand your reach.
Website: https://facebook.com/audiencenetwork/
Overall Rating: 4.4/5
4. Google AdX
Google AdX is a network of ad exchanges. It provides programmatic ads on ad spaces using real-time bidding (RTB) to ad networks such as AdSense, agencies, and demand-side platforms.
Google AdX Features
Publishers can use non-Google-certified Ad Networks.
Publishers can describe their inventory as branded, anonymous or a mix of the two.
Provides premium ad inventory to a small group of top-tier marketers. As a result, applications may get monetized with higher ad pricing.
Offers premium advertising inventory to a select group of top-tier marketers. As a result, apps may get monetized with higher ad rates.
Overall Rating: 4.4/5
5. InMobi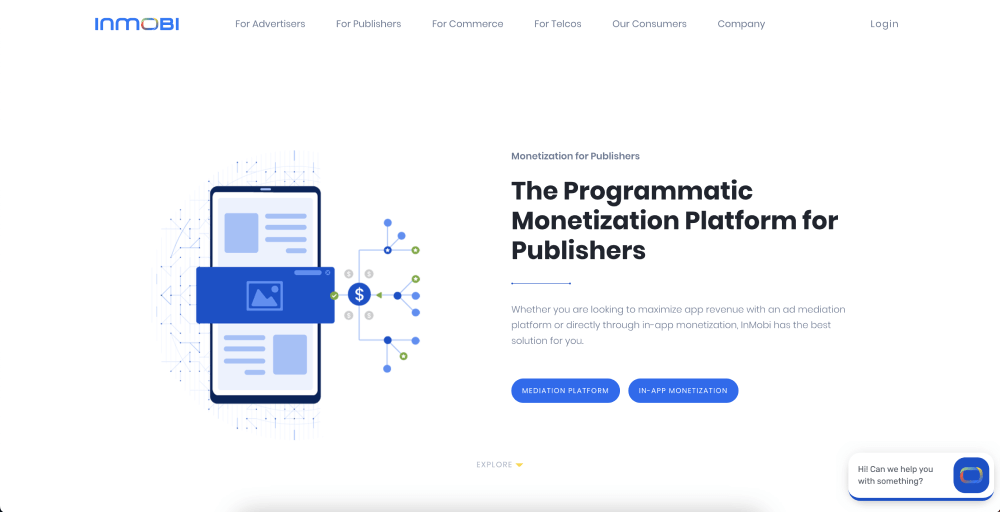 InMobi Overview
You may specify your target audience by carrier, time, operating system, operator, country, channel, or device with InMobi to guarantee that you only advertise to the closest matches. If you want to promote outside of the nation, InMobi has markets in the United States and the United Kingdom, South Africa, Japan, Europe, India, and Kenya.
The InMobi app monetization technology is fantastic since it operates worldwide and provides improved ROI. You may attract people at various phases of development with this platform.
InMobi Features
InMobi allows for app-based and online advertising and other fascinating features, making it ideal for effective monetization.
InMobi allows you to contact users and filter them not only by location but also by OS, time, channel, device, operator, carrier, and so on.
With the platform, you utilize a diverse range of ad types to provide advertising that enhances rather than detracts from the user experience.
Website: https://www.inmobi.com/
Overall Rating: 3.6/5
6. Unity Ads
Overview of Unity Ads
Unity Ads is one of the best platforms if you are looking to monetize mobile games. This platform shows you how to monetize your apps while providing instant reports on how your ad campaigns are performing.
Unity Ads Features
You may combine your unity words with several plugins from prominent mediation firms.
You may manage your target audience by demography, geography, operating system, etc.
You get dashboards that are simple to use and provide instant reports on ad serving.
Website: https://unity.com/
Overall Rating: 4.4/5
7. SmartyAds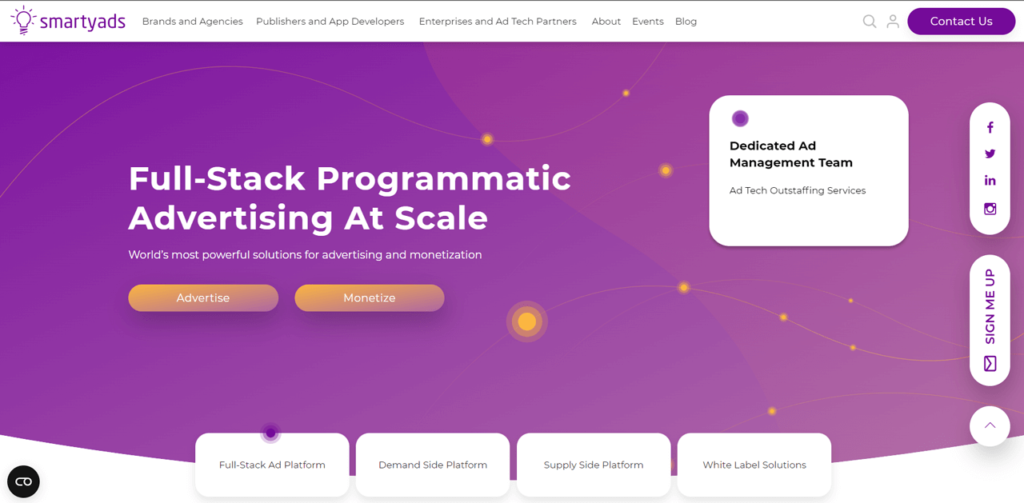 SmartyAds Overview
SmartyAds is a CPM advertising network that serves adverts all over the world. SmartyAds is a leading omnichannel ad tech platform that automates real-time advertising campaign management, inventory acquisition, and ROI generation across all screens and platforms.
SmartyAds Features
Retargeting campaigns on numerous screens are available to turn visitors into buyers.
The platform has internal safety features to provide a safe atmosphere and 99% visibility.
Data-driven statistics on impressions, ad expenditure, conversions, and other real-time information are available with the platform for elevated experience for the publisher.
Website: https://smartyads.com/
Overall Rating: 4.6/5
8. IronSource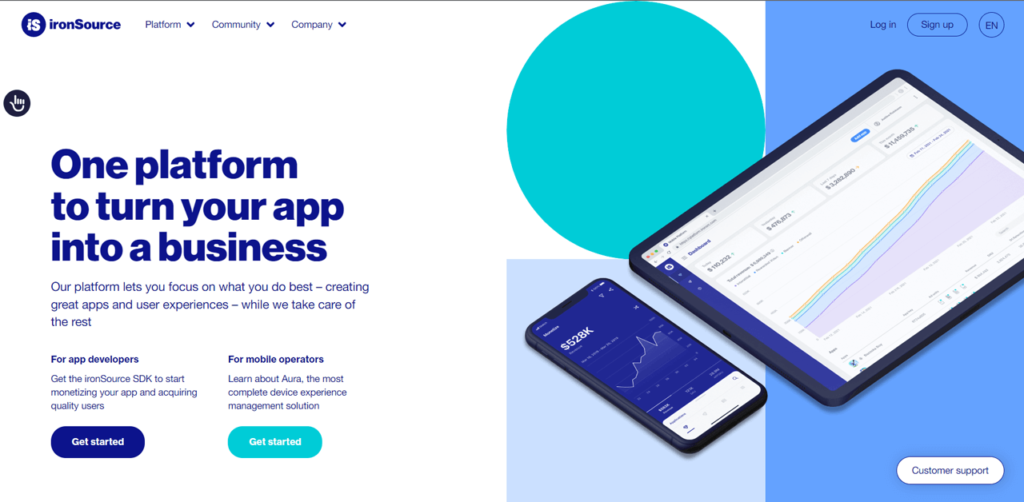 IronSource Overview
IronSource is a market-leading business platform that assists mobile content creators in thriving in the app industry. Their goal is to help app developers in converting their apps into scalable and sustainable companies by providing the most complete and comprehensive commercial platform available. They realize app business development by allowing them to focus on what they do best: creating apps and user experiences.
IronSource Features
Increases your user base through ROI-positive activities that connect you with long-term customers.
Increases ARPDAU and user value of the app using effective Ad mediation and high-impact ad types.
Analytics may help you better understand the functioning of your app from every angle, improving it faster and easier.
Using the options for publishers, you can propel your games to the top of the rankings and maintain them there.
Website: https://www.is.com/
Overall Rating: 4.4/5
9. AppLovin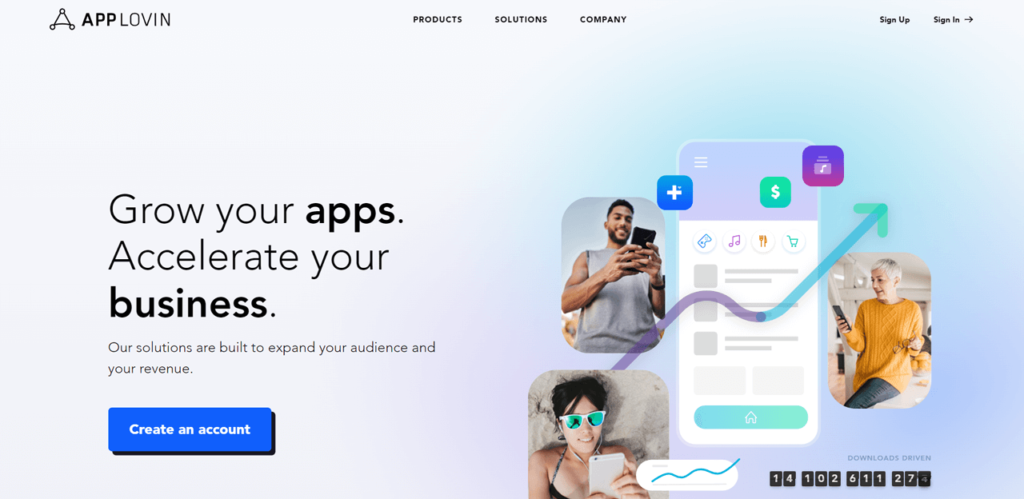 AppLovin Overview
AppLovin uses a combination of prediction models and learning algorithms to drive users to your applications. It connects apps with individuals while providing them with a tailored experience.
AppLovin Features
AppLovin lets you interact with users who participate for an extended period.
It also employs an interface to assess performance and suggests ways to improve it.
Website: https://www.applovin.com/
Overall Rating: 4.2/5
10. Appodeal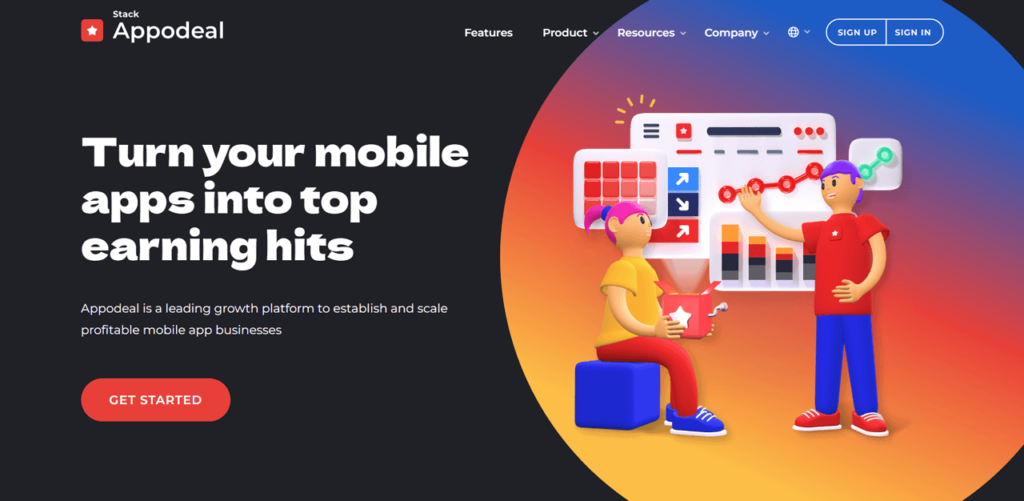 Appodeal Overview
Appodeal, a developer-focused app monetization platform attempts to relieve the difficulties associated with effective mobile traffic monetization. As a result, developers may save time on regular tasks associated with app monetization.
Features of Appodeal
It has the capability of logging and activating test mode.
It features placements that allow you to track and manage ads based on their location.
The dashboard is a versatile and straightforward analytics platform with adjustable settings.
Website: https://appodeal.com/
Overall Rating: 4.7/5
11. MobFox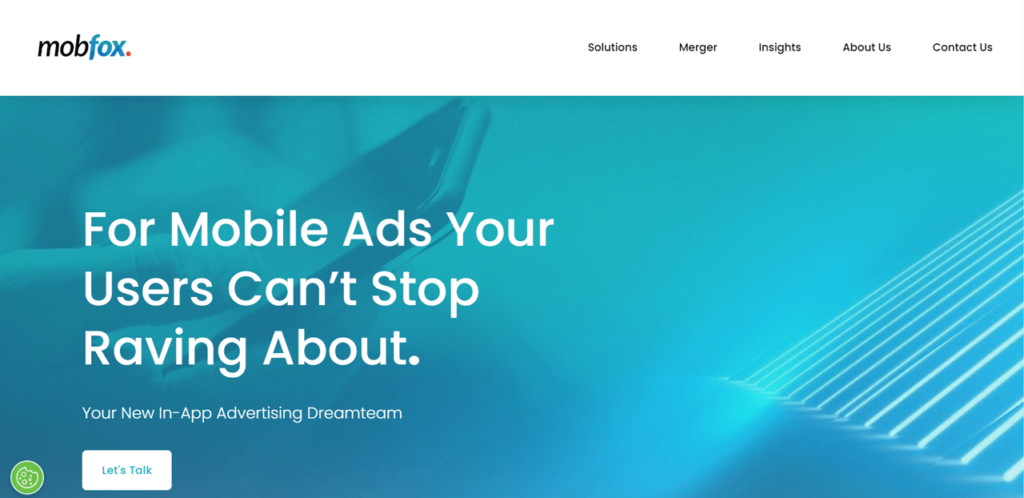 MobFox Overview
MobFox SDK works with all advertising formats, SDK-enabled networks and plugins such as Unity, Cordova, Adobe Air, and Gamemaker.
You may target customers based on their location (country, region, city, or zip code), carrier, channel (IT, business, travel, entertainment, and so on), and demographics (age, gender, lifestyle, relationship, native language, and education).
Features of MobFox
The option of targeting pre-defined behavioural populations or generating bespoke audiences is available.
The SDK supports all main ad formats, including native, interstitial, banner, rich media, and video.
Using Moat, you can track how well your campaigns perform.
Protects the app and its users by utilizing GeoEdge ad verification.
Website: https://www.mobfox.com/
Overall Rating: 4.5/5
12. Epom Apps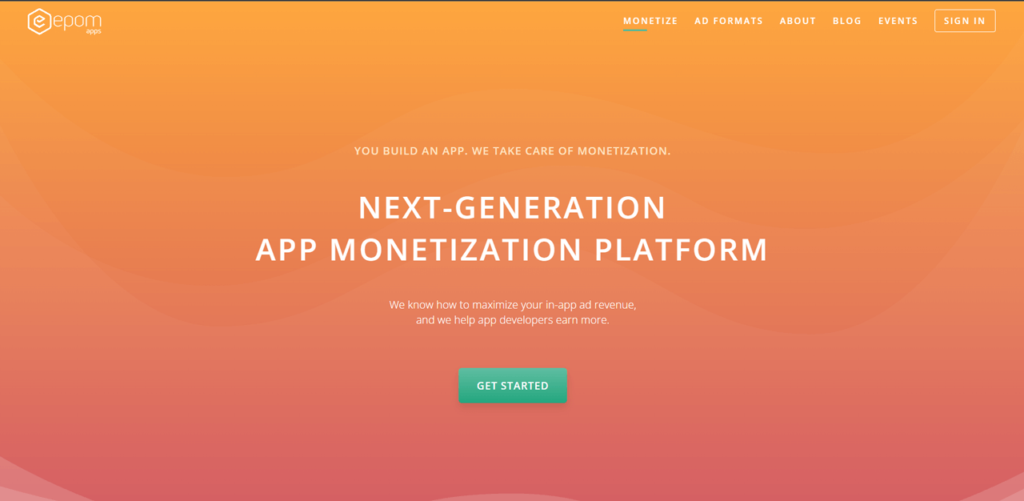 Epom Apps Overview
This supplier collaborates with the world's most well-known mobile ad networks, ensuring significant demand from advertisers and excellent prices for application developers. Epom is also one of the simplest monetization technologies to utilize; all you need to do is connect the SDK, and Epom Apps will take over ad management via automating monetization. This technology provides publishers with an optimization team that makes app monetization simple and effective.
Epom Apps Features
98% fill rate – Thanks to their near-100% fill rates, you know that every user using your app brings you revenue.
Supports direct deals
Excellent technical support for developers
The dedicated ad optimization team
Extensive mobile SDK
The real-time ad analytics suite
Website: https://apps.epom.com/
Overall Rating: 4.8/5
13. Smaato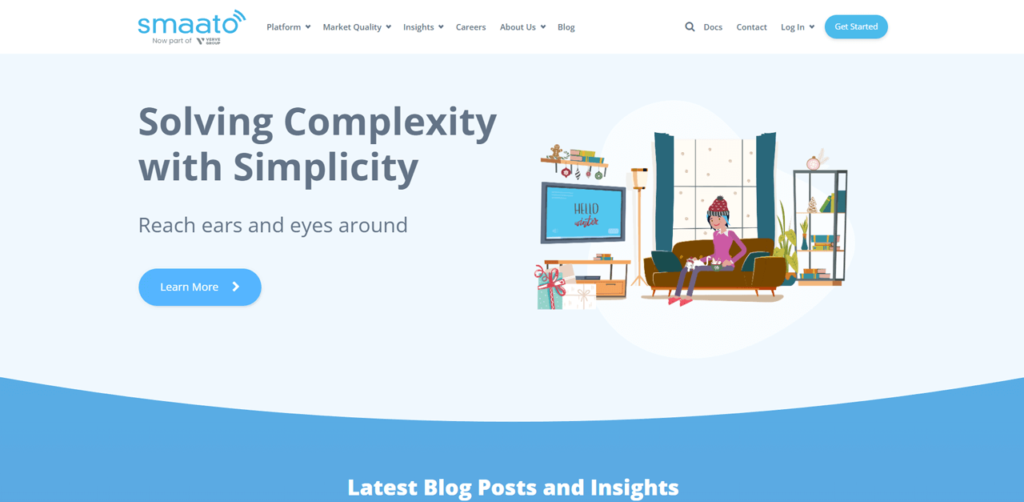 Smaato Overview
This ad tech solution is the only omnichannel ad server and monetization solution with easy app monetization controls. Publishers may provide their data and manage all inventory in one location. Marketers have access to the highest-quality inventory – allowing them to reach consumers worldwide and on any device. Smaato is headquartered in San Francisco and is a subsidiary of Verve Group, a Media and Games Invest (MGI) firm with offices in Hamburg, New York, Beijing, and Singapore.
Smaato Features
Support for both programmatic advertising and real-time bidding
Over 390 demand partners
Rich ad network integration options
Comes with a built-in ad server
Has a brand-safe ads marketplace
Website: https://www.smaato.com/
Overall Rating: 4.4/5
14. AdGate Media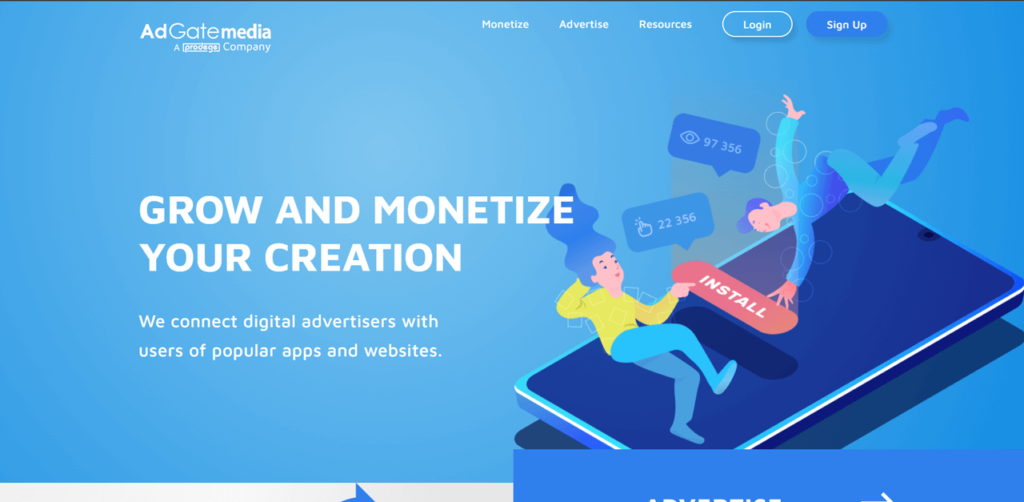 AdGate Overview
This app monetization technology provides publishers with offer wall and video ad units, allowing them to reward their consumers while also increasing their revenue. These methods raise not just income but also user engagement in your app. Their reports make it simple to see what you're marketing and how much money you're making. You may effortlessly disable a campaign that does not correspond with the interests of your brand. Furthermore, with over 2,000 active campaigns running at any moment, publishers can be confident that their eCPMs will be high.
AdGate features
As an AdGate Media advertiser, you get:
Spend money only on KPIs that matter to you (ex: installs, subscriptions, or engagement)
Access exclusive inventory not available from traditional DSPs
Launch your campaign instantly
Work with a budget of any size
As an AdGate Media publisher, you get:
High-performing eCPMs ($100+)
Easy integration with lightweight SDK
Website: https://adgatemedia.com/
Overall Rating: 4.2/5
15. ConsoliAds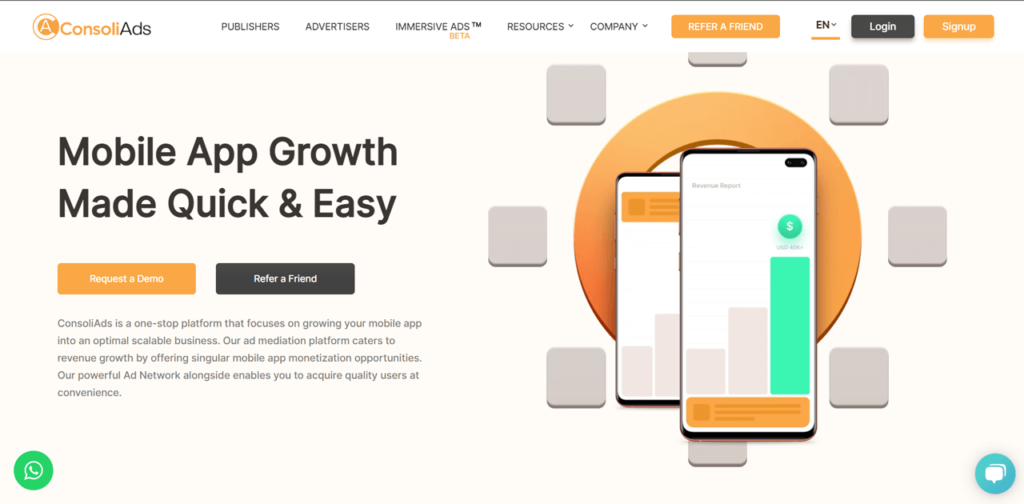 ConsoliAds Overview
This app monetization provider allows publishers total control over their mobile app revenue and user acquisition. Publishers will also get access to powerful user acquisition campaigns with targeted Appographics to help them expand their user base. ConsoliAds automatically ensures that you receive the greatest eCPMs. ConsoliAds assists both publishers and advertisers – with this service, you have access to everything- Ad!
ConsoliAds Features
In-Depth Analytics
Control of Testing & Live Environment
Advanced-level concentrated targeting
Access comprehensive dashboard
Website: https://consoliads.com/
Overall Rating: 4.4/5
16. MonetizeMore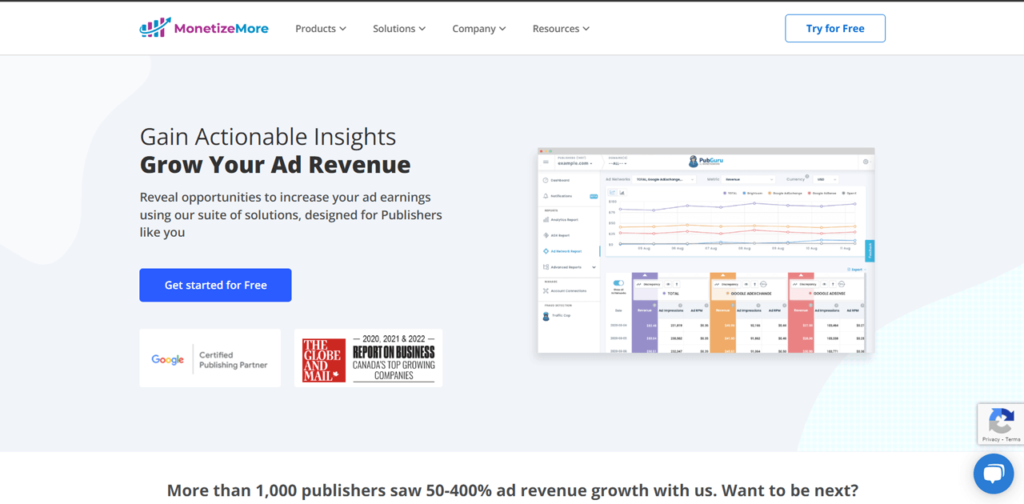 MonetizeMore Overview
This provider will obtain you with the greatest income splits and payment conditions and access to exclusive ad networks that demand billions of ad impressions every month. MonetizeMore essentially assists you in increasing your ad profits by utilising our portfolio of products created just for Publishers like you.
MonetizeMore Features
No lock-in contract – You don't have to sign a long-term contract with MonetizeMore
Award-winning Traffic Cop – this feature will block both sophisticated Invalid Traffic (IVT) and bot traffic from interacting with your ad impressions.
Optimal GAM Integration
Email Support
Website: https://www.monetizemore.com/
Overall Rating: 4.1/5
17. Chartboost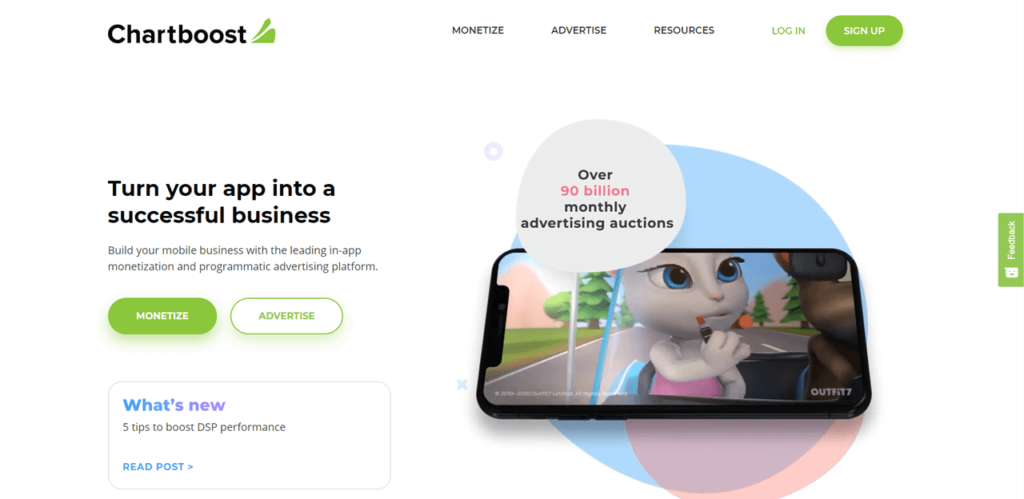 Chartboost Overview
Chartboost assists both marketers and publications. Furthermore, Chartboost is one of the few partners that supports ad monetization in the Amazon Appstore. Publishers may use this supplier to uncover revenue potential on Apple, Google Play, and Amazon.
ChartBoost Features
Programmatic in-app unified auction-based Helium SDK enables demand to compete for every impression resulting in higher yield for publishers.
Transparent reporting and analytics support
Website: https://www.chartboost.com/
Overall Rating: 4.2/5
18. Leadbolt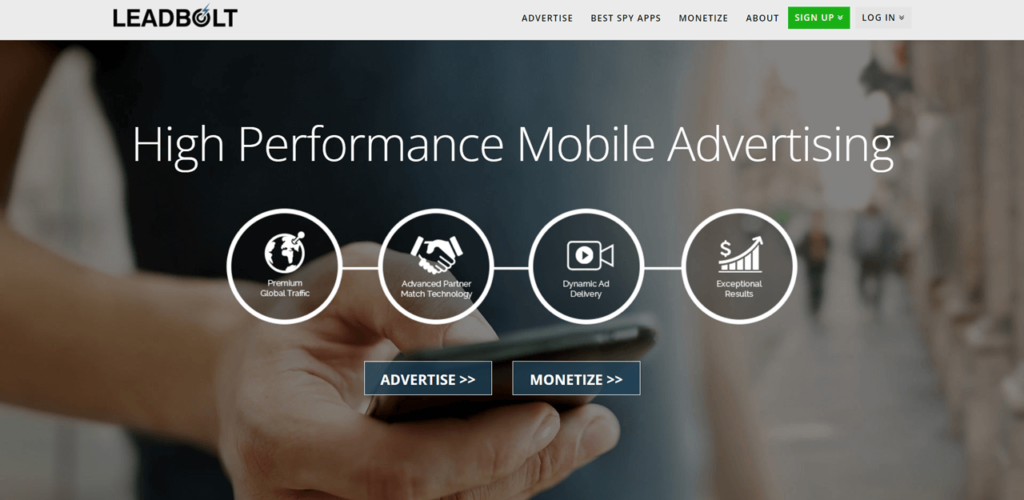 Leabolt Overview
Enables mobile advertisers to contact and acquire quality customers at scale by leveraging direct connections and dynamic ad-serving technology. Leadbolt serves over 10 billion advertisements every month across 65,000 applications globally. Leadbolt is based in Sydney, Australia, and has offices in Los Angeles, San Francisco, and Bangalore.
Leabolt Features
Premium, Direct Relationships
Advanced Ad-serving Technology
Robust Performance Tools/Analytics
Dedicated Support
Exceptional Results
Website: https://www.leadboltapps.com/
Overall Rating: 4.1/5
19. Digital Turbine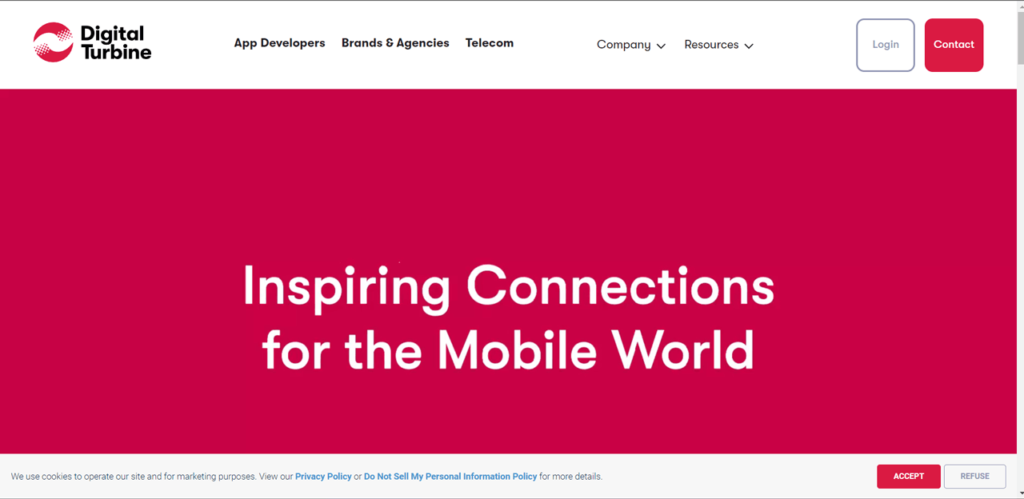 Digital Turbine Overview
Digital Turbine – Digital turbine recently took over monetization firm – Fyber and integrated mediation into their portfolio. This takeover has sprung Digital Turbine into the app monetization space. This provider, through Fyber, has amassed an extensive network with more than 180 programmatic demand partners that reach a total of 650 million unique monthly active users across more than 180 different countries globally.
Digital Turbine Features
Utilizes Programmatic demand, transparent mediation, and SingleTap-boosted UA campaigns to successfully deliver monetization with flexible and real-time mediation.
Proprietary Ignite technology accelerates mobile growth and consumer engagement.
Website: https://www.digitalturbine.com/
Overall Rating: 4.3/5
20. Publift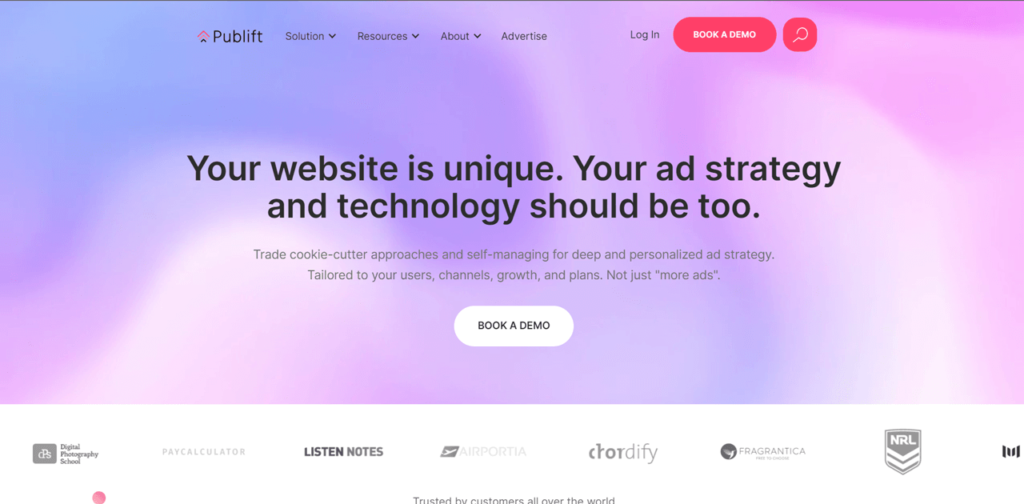 Publift Overview
Publift is customized based on users, channels, growth, and plans. Publift's innovative ad technology provides publishers with a highly customized solution. It combines cutting-edge features to maximize ad income, optimize page performance, and improve user experience with balancing ad revenue, all powered by a single line of code. Publift has expanded to serve over 250 customers in 60 countries thanks to streamlined, cutting-edge programmatic advertising technology and unbiased, ethical coaching.
Publift Features
Optimization Excellence
Deep Engineering Expertise
Website: https://www.publift.com/
Overall Rating: 4.6/5
Bottom Line:
Developers must find a balance between the desire to monetize their apps and keeping users interested, which necessitates the careful selection of the appropriate mobile app monetization platforms since this determines the future of your app. These powerful mobile advertising platforms assist you in efficiently scaling up your brand and business. We believe this list of mobile ad networks will assist you in running effective mobile ad campaigns. You may reach us at AdPumb for further queries regarding effective monetization that lets you autopilot your strategies.
Frequently Asked Questions