Ad Network vs Ad Exchange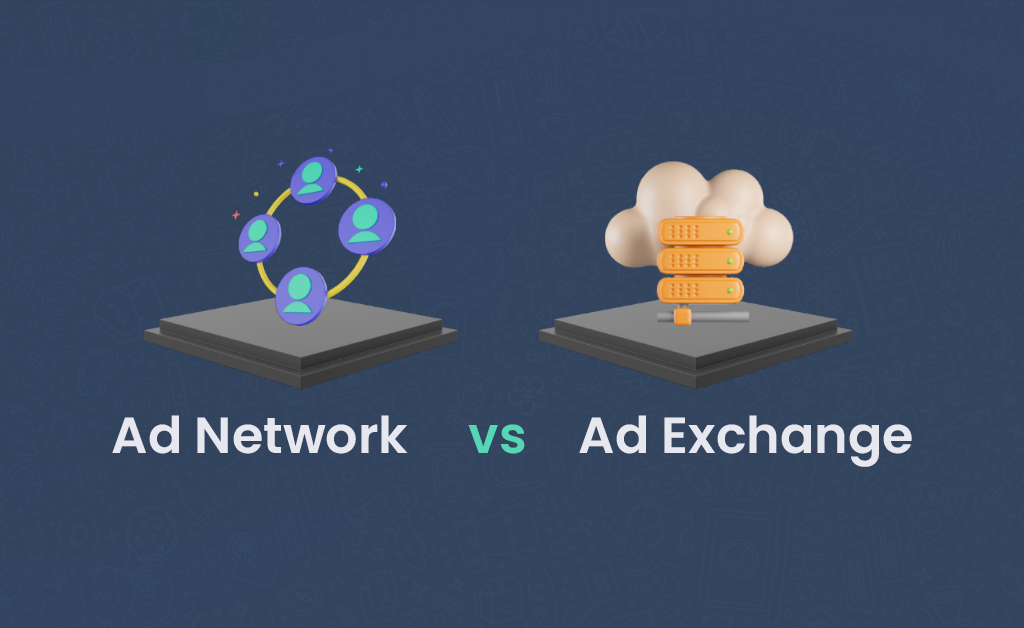 The programmatic marketplace relies heavily on ad networks and ad exchanges. Ad networks vs ad exchange: they provide comparable functions. In general, they both aggregate free inventory from publishers in one location and sell it.
Despite their apparent similarities, Ad networks and Ad exchanges serve separate roles in the programmatic ecosystem and operate in various ways. Understanding the distinction between the two is crucial today because programmatic advertising is estimated to be worth 418 billion USD in 2021. By 2026, this number gets predicted to rise to 725 billion.
Here, we go through the similarities and distinctions between each to give you a better sense of how such providers might help you with your app monetization efforts. Read on!
What exactly is an ad network?
An Ad network is a platform that operates as a middleman between advertisers and publishers. It gathers inventory from publishers and matches it with demand from advertisers. Ad networks can classify inventory based on specific audience segments.
How does an ad network function?
An Ad network is a group of publishers willing to sell advertising space to advertisers. Using the ad network's campaign management interface, the advertiser configures their ad campaign settings (audience location, ad frequency, budget, and so on).
An ad tag communicates the user's data when a publisher submits a bid request after a visitor visits their app. This tag includes data on the ad space, such as ad placement and the visitor.
When an advertiser's campaign and a publisher's inventory match, the ad details are delivered to the publisher's ad server. When the ad is accepted, the publisher places the tag code on their app, the ad becomes live, and the advertiser may watch and control its success through the ad network's campaign panel without informing the publisher.
What is an ad exchange?
An advertising exchange is an online marketplace where supply and demand parties (such as publishers, advertisers, ad networks, DSPs, and so on) purchase and sell inventory without needing an intermediary. Ad exchanges, in most cases, employ real-time bidding technology to run auctions and sell content to the highest bidder on an impression-by-impression basis.
How does an ad exchange function?
A publisher will employ an SSP to make its ad inventory available to ad exchanges. They will give the SSP the relevant data, such as page position, price floor amount, and buyer profiles.
An advertiser will use a DSP to connect to an ad exchange looking for available space.
When a user visits a publisher's app, an ad request is sent via the publisher's ad server to numerous exchanges and DSPs (if the publisher has ad space available).
When an ad request gets issued, the ad exchanges send a bid request to the DSPs. DSPs examine this request to see whether the advertiser is interested in that specific impression. If so, the DSPs will respond to the ad exchange with the necessary data. The ad exchange analyzes this data to find the most appropriate bidder for that inventory.
The exchange chooses the highest and most appropriate bidder, and their ad appears on the publisher's app.
Ad Network vs Ad Exchange: Difference between them
Whereas an ad network collects ad inventory from publishers and then sells it to advertisers, an ad exchange serves as a digital marketplace where marketers and publishers may directly buy and sell ad inventories. Because ad networks screen ad inventory based on certain criteria, they can get viewed as an intermediate between publishers and advertisers.
Ad exchanges cannot get considered intermediaries because they are merely a technology platform for acquiring ad space. However, because they function as an open marketplace, they may perform the functions of numerous ad networks while providing advertisers with a fair chance to bid on and purchase available inventory.
Comparison:
Users – Ad networks get utilized by publishers, advertisers, and agencies, whereas ad exchanges get utilized by publishers, advertisers, agencies, ad networks, other ad exchanges, DSPs, SSPs, and ATDs.
Main characteristic – Ad networks provide pre-segmented categories of adverts for presenting to specific audiences. Bulk buying and selling get followed, but an ad exchange gets based on an impression-per-impression trade.
Transparency – Advertisers don't know which apps run their advertising on ad networks, and Publishers don't know which firms buy their inventory. Advertisers know what publishers they buy inventory from on ad exchanges, and the apps on which ads get served can sometimes get monitored as well. Advertisers get to view their competitors' bids on some ad exchanges.
Inventory quality – Ad networks' p provides largely first-tier inventory, frequently sold for the first time, whereas ad exchanges provide all available inventory, including leftovers.
Pricing – Because the inventory cost is decided by an ad network, it remains steady. The inventory cost fluctuates in the case of Ad exchanges since it depends on bids from advertisers during real-time bidding auctions.
Which one to choose, an Ad Network or an Ad Exchange?
If you are having difficulty deciding between an ad network and an ad exchange? Consider selecting both.
Because ad networks and ad exchanges are a part of programmatic advertising, you will gain in any case.
At AdPumb, we are aware of the fact that programmatic advertising is the way to go since it allows you, the publisher, to generate demand from both parties and drives the most out of your ad units. This will increase fill rates and eCPM values, allowing you to make extra revenue from your application! Get to us for more information about programmatic advertising!