Mobile Game Monetization Statistics 2023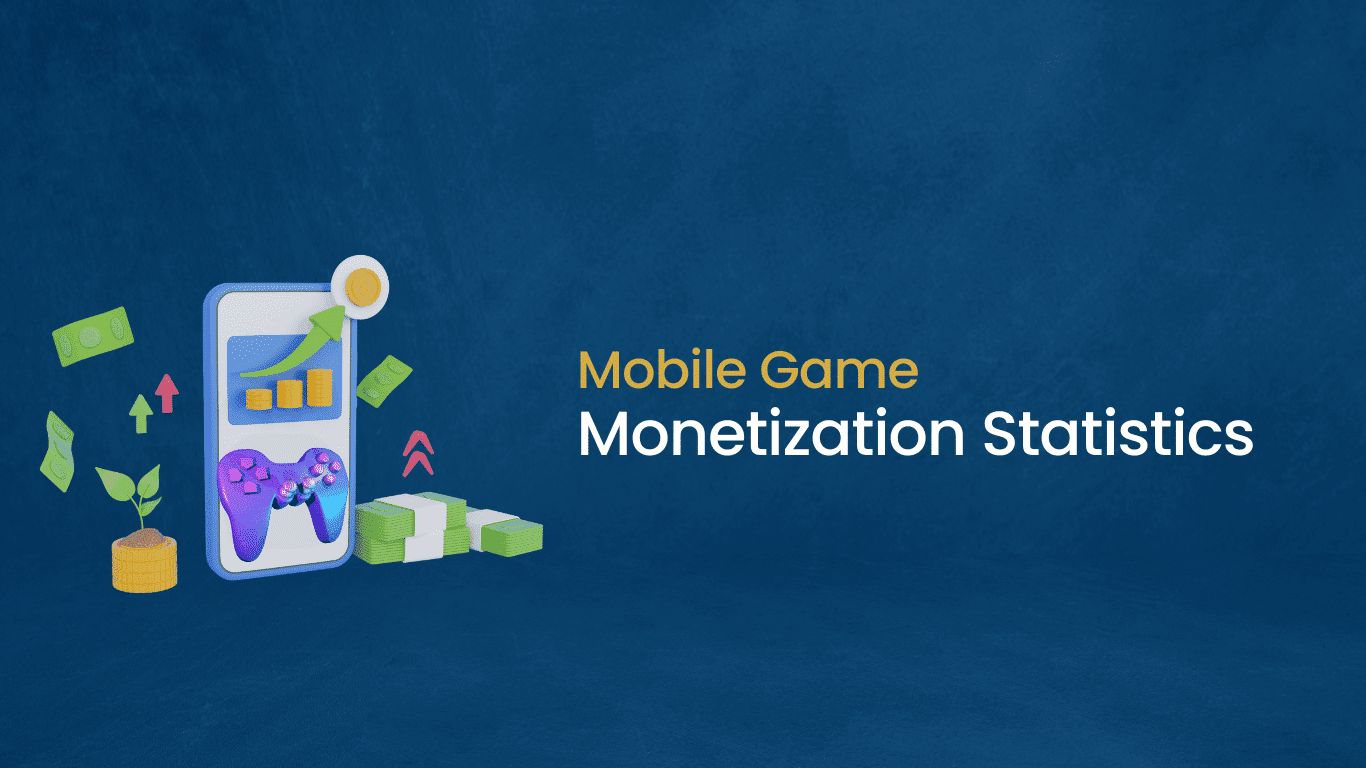 The gaming industry is a huge market that generates billions of dollars in revenue. In 2022, all types of games combined generated $184 billion in revenue. Mobile gaming is the most popular, accounting for 50% of the revenue or $92 billion.
Despite a decline of 6.4% in revenue in 2022, there was a significant increase in mobile game downloads, which reached almost 90 billion, driven by hyper-casual games.
In 2023, the mobile game industry is expected to continue its impressive growth trajectory, with new opportunities for revenue generation emerging all the time. Here, we'll delve into the latest Mobile Game Monetization Statistics for 2023 and explore how game developers can leverage these insights to maximize their revenue potential.
Growth and Projections for the Mobile Gaming Industry.
The ARPU (Average Revenue Per User) for mobile games is projected to reach $164 in 2023. The mobile gaming market is expected to continue growing with a projected market volume of $376.70 billion by 2027 and an annual growth rate of 7.08% from 2023 to 2027. The number of users in the mobile games market is expected to reach 2.32 billion by 2027, with user penetration reaching 29.2% by that year.
China is expected to generate the most revenue in the mobile games market in 2023, with an estimated $81.9 billion.
In-app purchases are a common monetization model for mobile games, with users spending $380 billion worldwide. Consumer spending on the App Store is expected to reach nearly $200 billion by 2025, while the Google Play Store is expected to reach $85 billion by the same year.
Games constitute 43% of all smartphone use, with 62% installing a game within a week of purchasing it. Android users make up the majority of gamers at 78%. Puzzle games are the most popular, accounting for 57.9% of all games played.
Mobile Gamer Demographics:
Mobile gaming has gained widespread popularity across all demogdraphics, with both men and women playing mobile games. Men make up 53.6% of the mobile game audience, while women account for 46.4%.
Age is also not a barrier to playing mobile games, as people of all age groups enjoy them. The largest age group among mobile gamers is between 16 and 24 years old, making up 28.3% of the audience. The 25-34 age group constitutes 29.5%, while the 35-44 age group accounts for 23.1%. Older age groups are also interested in mobile gaming, with 12.8% being aged 45-54 and 6.3% aged 55 and above.
On average, the age of a mobile gamer is 36. Interestingly, people over the age of 35 constitute almost half of the mobile gaming audience.
How do the youngest generations engage with games?
Recent research has shed some light on the gaming habits of Gen Z and Gen Alpha gamers. Here are some of the takeaways:
Gen Z spends 17% of their free time playing games, while Gen Alpha spends the majority of their free time on games – 21%, making games the primary source of entertainment for this generation.

90% of Gen Z and 94% of Gen Alpha gamers are considered game enthusiasts. This means they engage with gaming through playing, viewing, owning, and/or social behavior.

Mobile is the most popular platform for both Gen Alpha and Gen Z gamers, with 73% and 69% of them playing games on their mobile phones, respectively.

On average, Gen Z gamers play for 6 hours and 10 minutes, while Gen Alpha gamers spend even more time playing – 6 hours and 49 minutes.

Younger generations are more likely to spend on mobile games, with 52% of both Gen Alpha and Gen Z gamers being payers. This is higher than the 42% of the total gamer population who are payers.

According to the research, the primary reason for making in-app purchases for both Gen Alpha and Gen Z gamers is unlocking exclusive content. Personalizing characters or items come in a close second.

In the past 6 months, 93% of Gen Alpha and 91% of Gen Z have spent money on in-game purchases.

When it comes to spending on in-game items, Gen Alpha players spend the most on gear, playable characters, and in-game currencies. Gen Z players, on the other hand, spend the most on in-game currencies, gear, and playable characters.
Top Mobile Games
Top Mobile Games by Downloads
If you're curious about the top mobile games in the world or the most popular ones, check out this list of the most downloaded games in 2022:
a) Subway Surfers – 278 million downloads

b) Stumble Guys – 223 million downloads

c) Roblox – 185 million downloads

d) Candy Crush Saga – 165 million downloads

e) Ludo King – 164 million downloads

f) Race Master 3D – 133 million downloads

g) Bridge Race – 133 million downloads

h) Free Fire Max – 132 million downloads

i) My Talking Tom 2 – 115 million downloads

j) 8 Ball Pool – 115 million downloads
Top Mobile Games Genres
Here are the top worldwide mobile game genres by gross revenue in 2022, according to SensorTower:
a) RPG – $20.2 billion

b) Strategy – $16.3 billion

c) Puzzle – $9.1 billion

d) Casino – $8 billion

e) Shooter – $4.6 billion

f) Simulation – $4.5 billion

g) Action – $4.5 billion

h) Sports – $2.7 billion

i) Arcade – $2.1 billion

j) Tabletop – $1.7 billion
Top Mobile Games by Revenue
Check out the list of the most successful mobile games of 2022 by revenue (estimated IAP revenue after reducing platform fees and taxes):
a) Honor of Kings ($1.6 billion)

b) Genshin Impact ($1.2 billion)

c) PUBG Mobile ($1.1 billion)

d) Candy Crush Saga ($1 billion)

e) Roblox ($827 million)

f) Coin Master ($770 million)

g) Pokémon Go ($645 million)

h) Monster Strike ($524 million)

i) Dynasty Warriors ($504 million)

j) Uma Musume Pretty Derby ($494 million)
Mobile Game Genre Average Play Time (in minutes) by region.
| | | | | | |
| --- | --- | --- | --- | --- | --- |
| | North America | Latin America | Europe | Africa | Asia-Pacific |
| Hyper Casual | 5.4 | 5.8 | 6.7 | 6.6 | 7.2 |
| Casual | 15 | 18.8 | 23.7 | 26 | 21 |
| Mid-core | 15.4 | 23.7 | 18 | 17.5 | 16.4 |
| Hardcore | 18.1 | 26 | 19.7 | 13.8 | 16.5 |
| Social Casino | 11.4 | 21 | 19.9 | 17.1 | 21.4 |
Mobile Game Genre Average Play Time (in minutes) by region.
Notes:
The data represents the average play time of mobile games by genre, measured in minutes, in various regions around the world.
The genre categories used are Hypercasual, casual, mid-core, hardcore, and social casino.
Hyper Casual games have the shortest average play time across all regions, while mid-core and hardcore games have the longest average playtime.
Players in Europe spend the most time on average playing casual games, while players in Africa spend the most time on average playing hardcore games.
Players in the Asia-Pacific region spend the most time on average playing Hyper Casual and social casino games.
Top Mobile Game Publishers
Top Mobile Game Publishers by Downloads
Discover the top mobile game publishers of 2022 by downloads:
a) Azur Games (1.3 billion downloads)

b) Supersonic Studios (1.1 billion downloads)

c) SayGames (1 billion downloads)

d) CrazyLabs (920 million downloads)

e) VOODOO (840 million downloads)

f) Outfit7 (830 million downloads)

g) ABI Global (818 million downloads)

h) BabyBus (777 million downloads)

i) Lion Studios (754 million downloads)

j) Rollic Games (727 million downloads)
Top Mobile Game Publishers by Revenue
Take a look at the top mobile game publishers of 2022 by revenue:
a) Tencent ($4.8 billion)

b) NetEase ($1.8 billion)

c) Playrix ($1.5 billion)

d) King ($1.4 billion)

e) MiHoYo Games ($1.4 billion)

f) Bandai Namco ($1 billion)

g) Supercell ($1 billion)

h) Zynga ($984 million)

i) NCSOFT ($942 million)

j) Moon Active ($840 million)
Mobile Game Advertising Insights 2023
Looking at the latest research, here are some latest key insights on mobile game advertising:
The number of active mobile game advertisers increased by 17.5% from the previous year, with over 37k advertisers each quarter.
However, the number of mobile game ad creatives decreased by 15.9%, with just over 12 million created each quarter.
Over 90% of mobile game advertisers released new ad creatives every quarter.
North America had the highest number of monthly advertisers.
Casual, puzzle and RPG games had the most ad creatives.
Android had more ad creatives than iOS.
Video ads made up over 80% of all mobile game ad creatives.
Puzzle games had the highest impressions per creative.
In a Nutshell,
The gaming industry is a significant and growing market, with various platforms like mobile, console, and PC games. Mobile games have gained immense popularity in recent years, and their revenue has surpassed that of console and PC games. Although the revenue for the gaming industry experienced a decline in 2022, mobile game downloads increased, and the mobile gaming market is expected to continue to grow. As a result, optimizing user experience (UX) and monetization is becoming increasingly important for developers and publishers in this space.
At AdPumb, we understand the importance of effective monetization strategies. By leveraging our ad-serving tactics, we have helped numerous app developers and publishers increase their revenue streams. If you want to learn more about how we can help you optimize your app's monetization, go here.
Sources
---