Mobile eCPM Report Across The World in 2022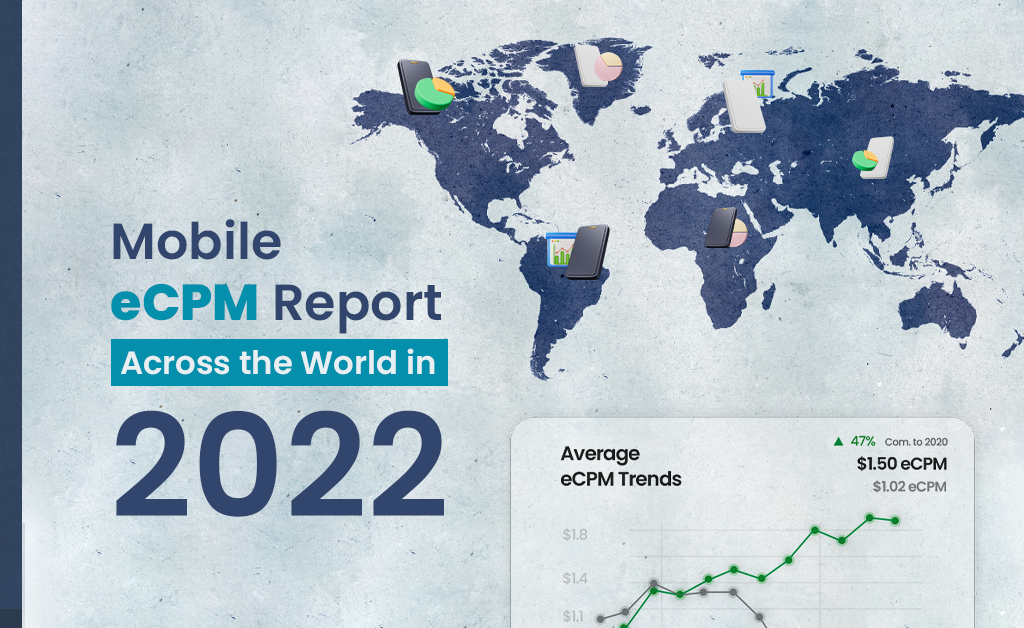 If publishers knew the mobile high eCPM countries report for the world in 2022, they could optimise their app monetization strategy, discover new audiences, and learn new methods to boost in-app ad revenues. ECPMs vary depending on parameters such as ad delivery channel, geolocation, mobile Operating Systems, and others. Here, we shed light on varied eCPM rates for various ad types and networks based on the region of the Android platform.
As expected, worldwide eCPMs for banner ads are far lower than those for rewarded video and interstitials, which cap at $0.61, depending on the device and geographical area.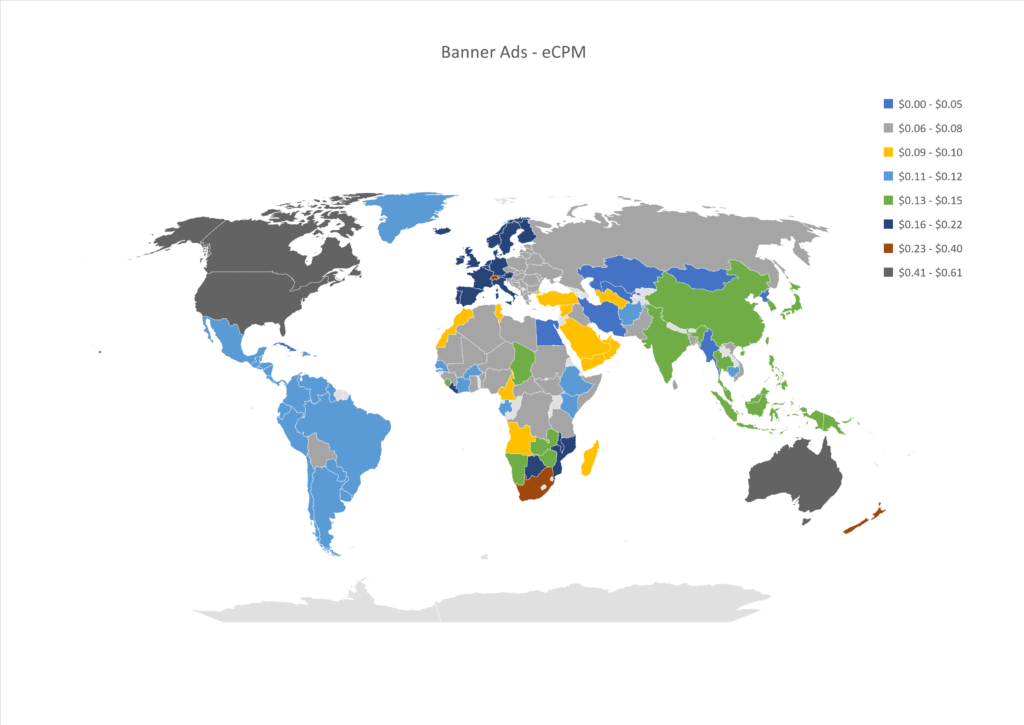 Banner Ads – Country wise eCPM Report
United States – As of June 2022, the United States was the market with the highest eCPM for in-app banner ads for Android apps, reaching a value of $0.61. Apart from the U.S., Canada ($0.45), Australia ($0.41), Denmark ($0.4), and Switzerland ($0.31) have the highest eCPM values. AdMob ($0.85) and Amazon Ads (eCPM undisclosed) were the top two ad networks for banner ads on Android in the United States during the period.
Western Europe – The effective cost-per-mille (eCPM) for in-app banner ads in the region reached $0.22. Luxemburg, Malta, Monaco, the Netherlands, Norway, Portugal, San Marino, Spain, Sweden, Switzerland, Andorra, Austria, Belgium, Denmark, Finland, France, Germany, Iceland, Ireland, the Isle of Man, Italy, Liechtenstein, and the United Kingdom are among the nations here. Google AdMob topped ad networks for banner ads in Western Europe during the period.
Eastern Europe – Here, we examine banner ads on the Android platform in Eastern Europe. Poland, Romania, Russia, Serbia, Slovakia, Slovenia, Ukraine, Albania, Belarus, Bosnia and Herzegovina, Bulgaria, Croatia, Czech Republic, Estonia, Greece, Hungary, Latvia, Lithuania, Macedonia, Moldova, Montenegro are among the nations represented here. Effective cost-per-mille (eCPM) for in-app banner ads in this region reached $0.09 in June of 2022.
Middle East – Middle East saw eCPM values hitting $0.10, increasing from the recorded $0.08 in June 2021. Middle eastern nations include Mauritania, Morocco, Oman, Qatar, Saudi Arabia, Somalia, Sudan, Syrian Arab Republic, Tunisia, United Arab Emirates and Yemen.
Asia – Asia includes China, Hong Kong, India, Indonesia, Japan, Laos, Malaysia, the Philippines, Singapore, South Korea, Taiwan, Thailand, and Vietnam. Banner ads – the oldest ad style, account for 76% of impressions in the Asian market. Meanwhile, they had the lowest ad revenue share – of 20%. Banner ads here from July 2021 to June 2022 recorded $ 0.15. AdMob was the most profitable ad network in Asia during the period.
Latin America – Countries here include El Salvador, Guatemala, Guyana, Honduras, Mexico, Nicaragua, Panama, Paraguay, Peru, Puerto Rico, Argentina, Belize, Bolivia, Brazil, Chile, Colombia, Costa Rica, Dominican Republic, Ecuador, Uruguay, and Venezuela. With a 77% impressions share, banner ads are the most common ad style on the screens of Android users in Latin America. Here, banner ads account for 24% of the total revenue share. eCPMs here for banner ads in the Android platform valued at $0.12. AdMob was the dominant ad network in Latin America for this ad style, followed by A4G from July 20 – June 21.
Rewarded Video Ads – Country wise eCPM Report
Rewarded video ads are full-screen adverts that consumers can view in return for in-app prizes, which is especially common in circumstances where you may view adverts in exchange for points or lives in video games.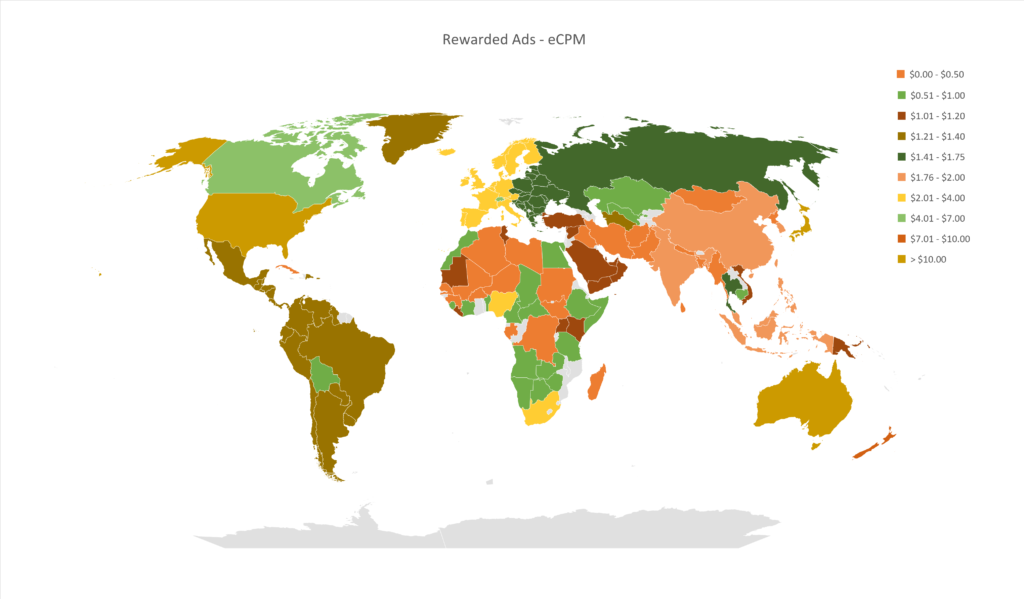 The United States experienced a constant decrease, falling to $10.96 from July 21 – June 22. eCPMs on Android range from $1.59 to $10.96 for the top 20 nations. AdMob ($13) recorded the greatest eCPMs for rewarded video ads when it came to ad networks.
Western Europe – Western Europe saw $3.62 eCPM for rewarded ads for the Android platform.
Eastern Europe – Effective cost-per-mille (eCPM) for in-app rewarded ads in this region reached $1.49 in June 2022, increasing from a recorded $1.36 last year.
Asia – Here, rewarded video ads came down from $2.02 (July 20 – June 21) to $2.00 (July 21 – June 22). Though eCPM value has come down, this region still has the highest revenue and impressions share for rewarded video ads compared to others.
Middle East – This region recorded an effective cost-per-mille (eCPM) of $1.19 from July 21-June 22.
Latin America – In this area, rewarded video ads recorded an eCPM of $1.31.
Interstitial Ads – Country wise eCPM Report
Interstitial ads allow users to skip the ad after a time. Interstitial ads are incredibly lively and enticing, making this type ideal for mobile apps.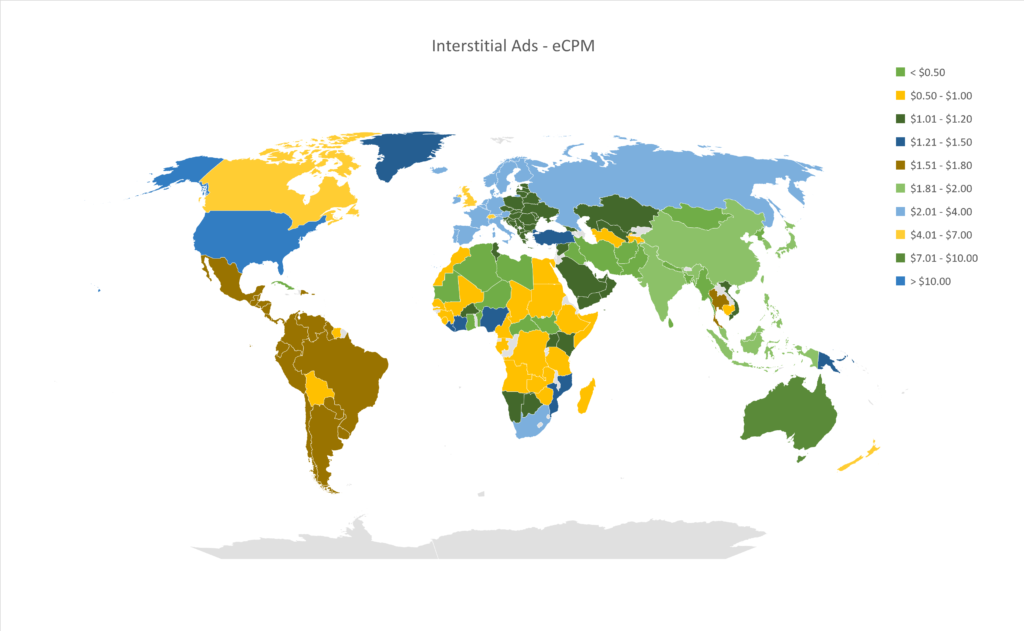 Because interstitial ads are more engaging, app developers may charge higher eCPMs for this ad style. The United States, with an $11.06 lead countries like Australia, Canada, Japan, and New Zealand, are the top five nations in this category. This format also has a substantially larger ad revenue share. In reality, interstitials on Android account for the vast bulk of overall revenue.
Western Europe – Interstitial ads collect the lion's share of ad revenue here. eCPM for interstitials recorded $3.31 here for the Android platform.
Eastern Europe – Here, eCPM values stayed at $1.77, which was the same in July 2020 – June 21.
Middle East – The effective cost-per-mille (eCPM) for in-app interstitial ads in this region reached $1.04 in June 2022, improving from $0.78 recorded from July 20 – June 21.
Asia – Interstitial ads account for more than half of the total ad revenue in Asia. During the observation period, the eCPMs for this ad format progressively increased. eCPM values reached $1.91 during this period.
Latin America – Interstitial ad eCPM trends on Android here have been quite favorable, climbing from $1.23 in July 2020 – June 21 to $1.56 from July 2021 – June 2022.
How to Increase eCPM Rates for In-App Ads?
Because the United States has the highest CPM rates, it is imperative to focus on US traffic to increase your CPMs and earnings. Similarly, publishers must optimize their apps for the most common OS software versions to prevent alienating a larger audience.
In order to effectively increase eCPM rates, publishers could:
Play around with different ad formats and placements
Try acquiring high-quality, high-paying users
Try ad mediation – Ad mediation is the management of multiple ad networks through a single SDK to help publishers increase CPMs, fill rates, and efficiency. AdPumb now brings in demand from 3000+ domains, regardless of your location. AdPumb presents partners with enhanced eCPMs and guaranteed 99.99% fill rates. With premium in-app bidding techniques, publishers unlock a world full of ads. Moreover, AdPumb promises 2X revenue growth. With ad mediation, publishers gain more. AdPumb consolidates demand from a plethora of sources into a simple SDK, which after integrating with the app, our clients could sit back and relax and see the magic unfold. What is more? With their conscientious reporting and analytics wing, clients could receive reports which only gives them more time to work on further perfecting their application.
Bottom Line
The in-app ad environment today is in complete disarray. As things change, publishers and advertisers are reconfiguring and re-optimizing their revenue strategies in real-time, opening up new potential for organizations that innovate successfully, particularly those committed to solving client issues and building a better future.
Frequently Asked Questions