AdMob Rewarded Video Ads [Ultimate Guide]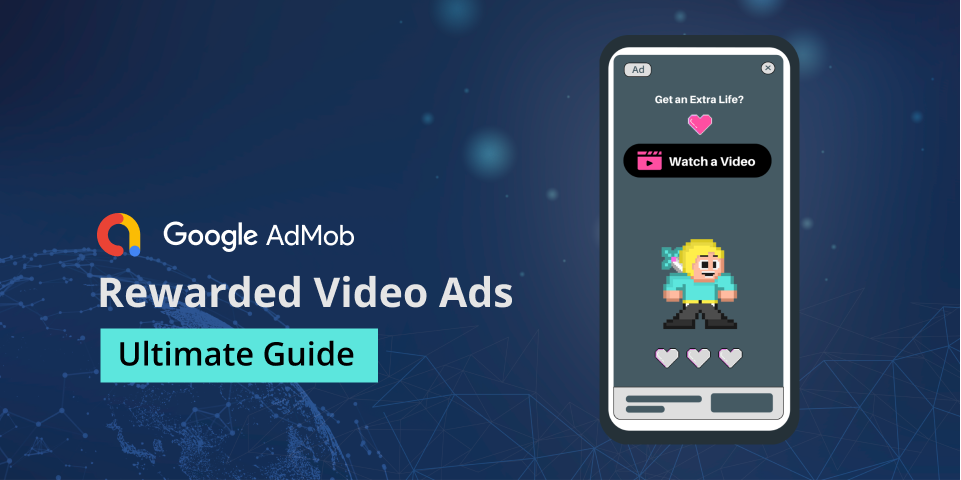 AdMob Rewarded Video Ads – Ultimate Guide [2023]
On top of offering a good user experience, rewarded video ads significantly enhance user engagement and retention. According to the monetisation platform Unity Ads, 62% of mobile gamers frequently watch rewarded video ads in return for a great gaming experience (i) and 90% of gaming applications use rewarded video ads, which they describe as the "hottest revenue generator" on the market(ii). Therefore, rewarded video ads can be twice as effective as interstitials. This guide explains all you need to know about rewarded video ads and includes best practices for integrating this ad type into your app.
In order to stand out from the competition, it is imperative for marketers to incorporate user experience into their rewarded video ad strategy, which should begin with an emphasis on audience identification. Following this, effective targeting can ensure that ads get appropriately positioned as part of the user experience.
How do Rewarded ads work?
Here's how a Rewarded video ad works in four steps.
i. A user in your app gets rewarded for viewing a video ad.

Ii. The user accepts the offer by clicking the associated button.

iii. A video ad appears as an overlay on the app content.

iv. The video ad concludes with the user receiving the promised reward.
Incorporating event triggers between an ad monetisation provider and your app can help achieve this, and this can be carried out quickly and is easy to set up. Rewarded video is a win-win situation: the user receives something worthwhile, increasing user engagement, marketers receive undivided attention, and publishers may monetize content without charging the user.
How much AdMob pays for Rewarded Video Ads
In 2022, the highest AdMob eCPM recorded for rewarded video ads on Android was 13.46 USD.
AdMob Rewarded Video eCPM India
In 2022, the highest AdMob Rewarded video ad eCPM reported in India was USD 1.50 on Android.
How are Rewarded video ads a win-win situation for everyone?
Win for users
Instead of paying with money, users may pay with their time to gain access to goods that assist them in continuing playing, progress quicker, or obtain paid products. Furthermore, by offering consumers the opportunity to interact with ads, rewarded ads put them in control of the ad experience.
Win for Developers
Because they increase revenue and keep consumers engaged. This format is intended to commercialise non-paying users while safeguarding the app experience. Because of the exceptional video completion and engagement rates, rewarded video ads earn a very high revenue per thousand impressions (RPM).
Moreover, rewarded ads often enhance user retention since the rewards motivate users to spend more time on the app. Lastly, rewarded ads offer a fantastic chance to develop a hybrid revenue strategy that includes in-app purchases (IAP).
Win for Advertisers
Advertisers like rewarded ads because they generate higher levels of user engagement than other ad formats, resulting in a higher return on ad expenditure (ROAS). The commercials are opt-in, and users frequently watch them because of the benefits. As a result, performance advertisers see higher conversion rates, while brand advertisers' brand recognition and recall have increased.
In what categories of Apps can Rewarded Ads be used?
There is a widespread misperception that rewarded video ads are solely applicable to gaming applications, which is incorrect. Several types of rewards can be appropriate.
Here are examples:
Purchase discounts – for example, activating a voucher – might be for a limited time.
Unblocking music – for example, N minutes of ad-free listening in a streaming app.
In-game rewards, such as gaining an extra life.
Unlocking a feature in the dating app that allows the user to view more profiles.
Ability to access the application without ads for a limited time.
Additional sticker packs, such as in a social media app.
Unlocking a book chapter or more chapters for free reading.
Unblocking video material, for example, N hours of free movie and TV show viewing.
Rewarded video ads perform well when the reward is relevant throughout the user experience. Thus, for example, if we're talking about a game, it may be a sum of in-game currency at the start, at the first stages. Yet, the rewards increase in the subsequent levels of the game. Users may be interested in more than just the currency, such as additional lives or special abilities to help them through game levels.
2023 eCPM Trends for Rewarded Video Ads
Rewarded video ads have a substantially higher effective cost per mile (eCPM) than other ad formats because of its high user involvement and click-through ratio (CTR).
Between March and June 2022, the effective cost-per-mille (eCPM) for in-app rewarded ads for Android in the United States decreased steadily, falling to 10.96 USD in the most recent month recorded(iii). Similarly, rewarded ads eCPM in the United Kingdom and Australia fell, hitting 4.34 and 9.63 USD, respectively. South Korea ranked first in the newest eCPM data, with a booming $8.10 eCPM, far greater than any of the following nations for rewarded video ads. Other East Asian countries, such as Taiwan, Japan, and Hong Kong, are also becoming increasingly competitive in this field.
Best Practices for Rewarded Video Ads
Double-check your ad placements to make sure it's perfect
Emphasize User Experience
Utilize Right Targeting
Employ Mediation from in-app monetization providers like AdPumb
Properly segment users depending on their behaviour
Use advertising filters
Offer unexpected benefits to consumers.
Rewarded video ads – Challenges
May be perceived as inauthentic – Some believe that incentive ads are deceptive. They frequently presume that users only get engaged with them to win a prize and will disregard the ads. Yet, studies indicate this is not the case and that such ads could improve conversions, which might be due to the mutual agreement reached by each side.
Rewarded Video Ads vs Interstitial
Advertisers employ two typical ad styles to reach their target audience: rewarded and interstitial ads. While each generates revenue, there are some significant variations between them.
Definition
Ads that users can choose to watch in return for a reward, such as in-app cash or premium content, are known as rewarded ads, whereas Interstitial ads are full-screen ads that display in an app at natural transition moments, such as between levels or after performing the action.
User Experience
Rewarded ads: Because consumers opt to view these ads in return for a reward, they are less disruptive and more favourably evaluated by users, whereas Interstitial ads are obtrusive since they can disrupt a user's experience within an app.
Format
Rewarded ads are often video commercials that last 15 to 30 seconds, while interstitial ads can take numerous forms, including video, static pictures, and interactive ads.
Revenue Generation
Because users are motivated to watch them, rewarded ads produce better engagement and revenue per user than interstitial ads, while Interstitial ads tend to generate a higher revenue per impression than rewarded ads, as they are seen by a larger audience.
Rewarded Interstitials
Rewarded interstitial is an incentivized ad style that allows you to give awards for ads that display naturally during app transitions. Compared to rewarded ads, users do not need to opt-in to see a rewarded interstitial.
Bottom Line
Rewarded video advertising is only one of several ad formats accessible to digital marketers. There are hundreds of additional advertising possibilities, and choosing the best ad platforms for your business can be difficult. Furthermore, keeping track of the various needs required by each might be difficult.
Subscribe to AdPumb's in-app monetization and mediation services to make the process easier. AdPumb's experts will assist you in making the most of all of your in-app ad units. Go now!!
Sources
(i). 62% of mobile gamers frequently watch rewarded video ads in return for a great gaming experience
(ii). 90% of gaming applications use rewarded video ads, which they describe as the "hottest revenue generator" on the market
(iii). Between March and June 2022, the effective cost-per-mille (eCPM) for in-app rewarded ads for Android in the United States decreased steadily, falling to 10.96 USD in the most recent month recorded.
Frequently Asked Questions
---